Carol S. Marden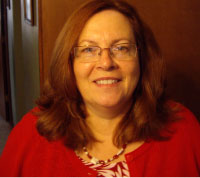 Office: Counseling Services
Address: 232 English/Counseling Services Bldg
Phone: 785-532-6927
E-Mail: cmarden@ksu.edu
SenatePosition: Senator for Student Life, Co-Chair, Campus Affairs Committee
Short Biography:
For most of my life I have lived in Kansas; in a very small, close knit community. I moved to Manhattan in 1997. I lived for a short time at the foothills of the Wind River Mountains in Wyoming and still go back to enjoy them each year.
Brief Work History:
I came to the university in the early part of 1997 after working 5 years at Farm Bureaus. Public Affairs Division. I started at the Counseling Services part time as an Office Specialist. Within a year I was asked to work full time, which I gladly accepted. Within a few years (fall of 2001) the Director approached me and asked if I would supervise other classified staff in our department. Along with more responsibilities came a reclassification of my position to Administrative Officer.
After more change and more responsibility, early in 2006 my position was reallocated to Public Service Administrator. I love change and even though I have been in the same department for more than of 15 years, my job barely resemble what it did back in 1997.
Personal Interests:
In my spare time I enjoy traveling, crafting, crocheting, reading, gardening, playing with my 5 grandchildren (almost 6), and spending time with family and friends.
Additional Comments:
I feel it my responsibility to give back to the classified staff and in some cases to represent the classified staff, by serving on numerous committees. It has been my privilege to serve on and chair the Peer Review Committee, Classified Senate, Campus Affairs, SIRT (Security Incident Response Team), All University Campaign, Alternative Service Committee and others too numerous to mention.