Lesa Reves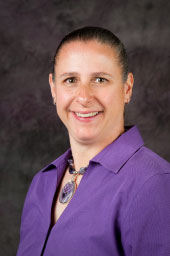 Office: Veterinary Medical Teaching Hospital
Address: J102 Mosier Hall
Phone: 785-532-5700
E-Mail: lreves@ksu.edu
Senate Position: Ex-Officio and Co-Chair, Legislative Affairs Committee
Short Biography:
I was born in Concordia, KS and grew up on the family farm in the Alert Community in Northwestern Riley County. In the early 1990s, I moved to my current home on our family farm in the Fostoria Community in Northwestern Pottawatomie County. I attended school at Blue Valley-Randolph. Then I went to the Kansas School of Floral Design in Lawrence, KS in 1982 and worked in the floral industry for 10 years. I achieved the honor of "FTD Master Designer" during this time.
Brief Work History:
My career at K-State began in March of 1993 as I took a job as an Animal Caretaker, milking the university herd at the KSU Dairy Teaching and Research Center where I worked for the next 9 1/2 years. Following my joy of working with animals, I started working as an Animal Science Tech in the Large Animal section of the KSU Vet Med Teaching Hospital in August of 2002 where I currently to work. My family includes my husband of 18 years, Rob. He is an Animal Science Tech in the Small Animal section of the KSU Vet Med Teaching Hospital and also serves on the Classified Senate. We have two precious teenage sons, Sheridan and Morgan. My family is very active in 4-H with my husband and I as past community leaders for the Olsburg Boosters 4-H Club and current multi-county geology leaders. We raise rare breeds of livestock and poultry and grow a variety of vegetables in our heirloom garden.
Personal Interests:
I enjoy spending time with family and friends and living the country life.