Susan Erichsen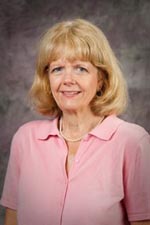 Office: Dean of Education
Address: 002A Bluemont
Phone: 785-532-5551
E-Mail: sle@ksu.edu
Senate Position: Senator
Short Biography:
I have lived in the Junction City area my entire life. After graduating high school there I completed the Medical Secretary program at Brown-Mackie in Salina. My husband, Harold and I live south of town on the farm he was raised on. We have two grown children; our son Paul graduated from Ft Hays and our daughter Amanda has degrees from K-State and Oklahoma State Universities.
Brief Work History:
In 1988 I started working for the state part-time at the Parole Office in Junction City. In the summer of 1989 I took a full time position with K-State and have been working in the College of Education as the grants accountant since then.
Personal Interests:
Spending time with our granddaughter Ashlee. We enjoy being outside, playing with the dog, taking walks, gardening and watching the birds.