Conference on Applied Statistics in Agriculture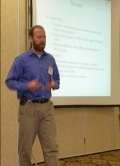 Every year, the Department hosts a Conference on Applied Statistics in Agriculture. This conference has continued to prosper and attract a steady audience of agricultural researchers in ways that we didn't anticipate when it began in 1989.
The Conference is held in the Spring, with a Sunday workshop before the conference begins on a Monday. In addition to a keynote speaker on Monday, the conference always includes contributed presentations and posters. Social events have included student pizza parties, visit the Konza Prairie and a Kansas country dance lessons.
Planning for the conference is an ongoing and continual process. Up-to-date information is available at the conference website Ag Stat Conference.
We hope to see you there!