Who's the Mayor?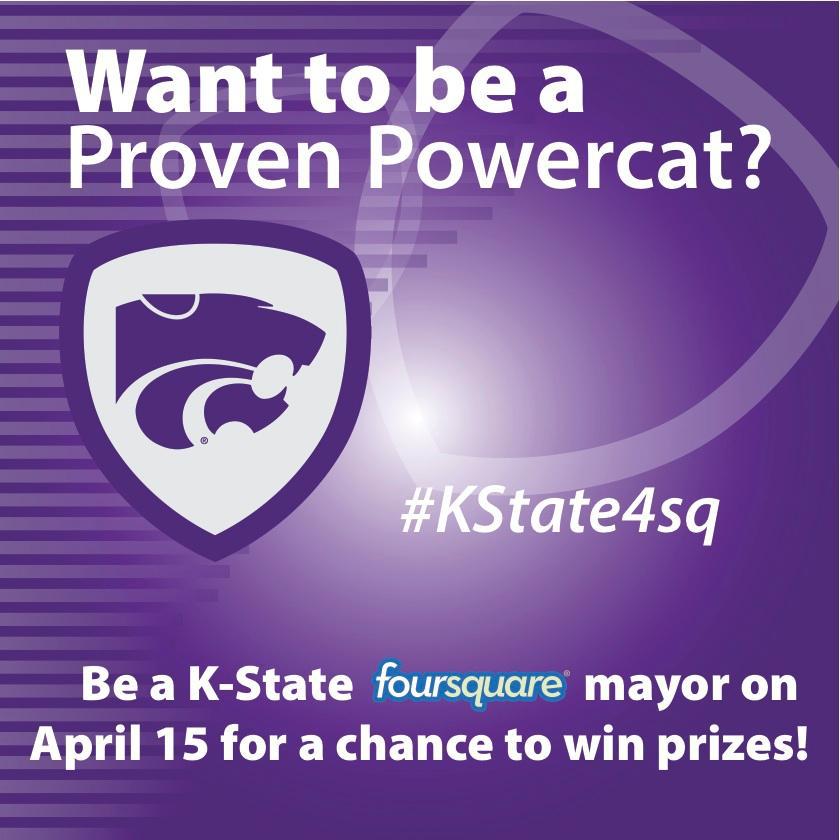 Kansas State University is holding a foursquare contest! Like K-State's foursquare page and be Mayor of one of our 101 venues on April 15, 2013 for a chance to win exclusive K-State foursquare Mayor prizes.
Let's get you started! Read below for tips and tricks to get you on your way to a Mayorship at K-State.
What is foursquare?
Foursquare is a free app that allows you to check in at the places you visit and share these places with your friends.
How do I get on foursquare?
Download the mobile app for your iPhone, Android or Blackberry device by searching in your app store. The app is free to download. Create an account and then start checking in on campus!
How do I like Kansas State University on foursquare?
Find our page and like us at https://foursquare.com/kstate. As a reminder, liking the K-State page is required to be eligible to win prizes.
How do I become a Mayor?
You must have checked in more days than anyone else over the last 60 days at a venue.
You need to have a profile photo uploaded from your settings page.
Your check-ins must be done through the mobile app on your smartphone to count toward a Mayorship.
You must check-in "on the grid" to win a Mayorship. To ensure you are on the grid, go to your privacy settings and check the box to "Include me in the public list of people who are currently checked in at a venue."
Just as in the real world, Mayorship is a public office! You must have the "Let me earn Mayorships" box checked in your privacy settings.
What strategies can I use to become Mayor?
Make checking in a habit. Check in EVERYWHERE you go!
Follow the guidelines for Mayorship to make your check-ins count.
Get your friends on foursquare to make the competition more exciting.
How many check-ins per day count towards the Mayorship of a venue?
No need to check in multiple times per day at a venue. Only one check-in per day counts towards earning a Mayorship.
How will I know I am getting close?
When you are within 10 check-ins of winning a Mayorship, you will see how far away you are from ousting the current Mayor. Look for this in the post check-in screen once you have checked in at the venue.
What are the rules of foursquare?
Foursquare provides a simple set of "house rules" for its users. Read them here. (LINK: https://foursquare.com/info/houserules)
Questions? Please contact Social Media Services at socialmedia@k-state.edu.