Welcome to Sigma Xi - Kansas State University Chapter
Sigma Xi was founded in 1886 to honor excellence in scientific investigation and encourage a sense of companionship and cooperation among researchers in all fields of science and engineering. The Greek letters "sigma" and "xi" form the acronym of the Society's motto, "Spoudon Xynones," which translates as "Companions in Zealous Research."
Science Cafe
Tuesday, October 11 at 7:00 p.m.
Radina's Coffeehouse & Roastery, Aggieville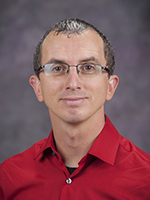 Nicholas Wallace
KSU Division of Biology and Johnson Cancer Center
How Does a Virus Cause a Tumor?

The idea of using the HPV (human papillomavirus) vaccine to prevent cancers has become a hot discussion topic, but have you ever wondered how a tiny virus causes deadly cancers? Or even what a virus is exactly? This Science Café will use metaphors to make cutting-edge science approachable and allow you to answer these questions.
Save the date for the next Sigma Xi National Meeting
November 10 - 13Hyatt Regency AtlantaAtlanta, Georgia
Meeting information and registration
November 10—13, 2016
Hyatt Regency Atlanta
Atlanta, Georgia - See more at: https://www.sigmaxi.org/meetings-events/annual-meeting#sthash.VBFPNcHI.dpuf
November 10—13, 2016
Hyatt Regency Atlanta
Atlanta, Georgia - See more at: https://www.sigmaxi.org/meetings-events/annual-meeting#sthash.VBFPNcHI.dpuf
November 10—13, 2016
Hyatt Regency Atlanta
Atlanta, Georgia - See more at: https://www.sigmaxi.org/meetings-events/annual-meeting#sthash.VBFPNcHI.dpuf
November 10—13, 2016
Hyatt Regency Atlanta
Atlanta, Georgia - See more at: https://www.sigmaxi.org/meetings-events/annual-meeting#sthash.VBFPNcHI.dpuf
November 10—13, 2016
Hyatt Regency Atlanta
Atlanta, Georgia - See more at: https://www.sigmaxi.org/meetings-events/annual-meeting#sthash.VBFPNcHI.dpuf
ovember 10—13, 2016
Hyatt Regency Atlanta
Atlanta, Georgia - See more at: https://www.sigmaxi.org/meetings-events/annual-meeting#sthash.VBFPNcHI.dpuf
K-State Sigma Xi Congratulates our 2016 Awardees
Matt Galliart

National GIAR Winner

Samantha Sharpe

Campus GIAR Winner

Adam Robb, Moundridge H.S.

Outstanding H.S. Science Teacher

Dr. Keith Miller

Outstanding Service Award

Secondary School Science Teacher Program
Sigma Xi Annual Meeting & Student Research Conference - See more at: https://www.sigmaxi.org/meetings-events/annual-meeting#sthash.aecAfLXt.dpuf
Sigma Xi Annual Meeting & Student Research Conference - See more at: https://www.sigmaxi.org/meetings-events/annual-meeting#sthash.aecAfLXt.dpuf
Sigma Xi Annual Meeting & Student Research Conference - See more at: https://www.sigmaxi.org/meetings-events/annual-meeting#sthash.aecAfLXt.dpuf