Welcome to Sigma Xi - Kansas State University Chapter
Sigma Xi was founded in 1886 to honor excellence in scientific investigation and encourage a sense of companionship and cooperation among researchers in all fields of science and engineering. The Greek letters "sigma" and "xi" form the acronym of the Society's motto, "Spoudon Xynones," which translates as "Companions in Zealous Research
Dr. Kenneth J Klabunde was president of the K-State Chapter of Sigma Xi in 1984.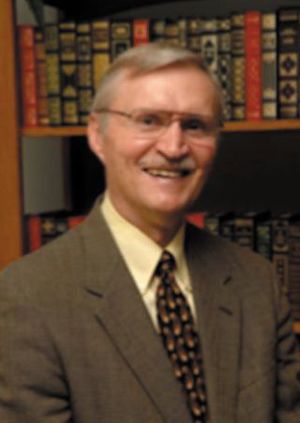 MANHATTAN, Kansas -- Dr. Kenneth J. Klabunde, age 73, of Manhattan, died April 28, 2017, at the Kansas University Medical Center.
He was born May 30, 1943, in Madison, Wisconsin, the son of Vernon and Anita (Daniels) Klabunde. The family later moved to Davenport, where he grew up. He is preceded in death by his parents.
Dr. Klabunde received his B.A. from Augustana College, majoring in Chemistry, and his PhD from the University of Iowa in 1969. After doing postdoctoral work at Penn State University, he was hired by the University of North Dakota in Grand Forks. In 1979, he moved to Manhattan to become the head of the Department of Chemistry at Kansas State University. He was named a University Distinguished Professor, and he was the founder of NanoScale Corporation. In the course of his 43-year career, he authored over 500 scholarly publications and books, filed over 20 patents, and received numerous awards, including the Olin Petefish Award in the Basic Sciences for 1995, the 1998 Midwest Award from the American Chemical Society, the Huck Boyd Award as Kansan of the Year in Technology in 2002, the Popular Mechanics "Breakthrough Award" in 2005, the Women in Engineering and Sciences Award for "Making a Difference" in 2005, and the Iman Award for Excellence in Research in 2008. He was named a Fellow of the ACS Industrial and Engineering Division in 2009. He was especially proud of the achievements of the many students he mentored. He was a member of several professional organizations including the American Chemical Society, Alpha Chi Sigma, Phi Lambda Upsilon and Sigma Xi.
On April 8, 1967, Ken married Linda Blow in Moline. They recently celebrated their 50th wedding anniversary. Over the years, Ken and Linda traveled extensively. They've been to countries all over Europe, Asia, South America, and Australia. But Ken's favorite moments were spent at the log house on Table Rock Lake in Missouri where Ken loved boating, water-skiing, and fishing with his grandsons. "Christmas at the Log House" was magic.
As a devout Christian, Ken was an active member and leader of Peace Lutheran Church and the University Christian Church in Manhattan. He was also an affiliate member of Trinity Presbyterian Church in Shell Knob, Mich. Later in his life, he became a member of the Gideons International, distributing hundreds of Bibles in the last four years of his life.
Ken's wife Linda survives, additional survivors include their three children: Sara Huter and her husband Daryl of Derby, Kan., David Klabunde of Manhattan, Kan., and John Klabunde of Elgin, Texas; two grandsons, Erik and Tyler Huter; and four siblings: Kitty Beth Collins of Spooner, Wisc., Kristine Klein of West Branch, Iowa, Karter Klabunde of Davenport, and Roger Klabunde of Frankfort, Mich.
Science Cafe
Radina's Coffeehouse and Roastery, Aggieville
Science Cafe will return in the fall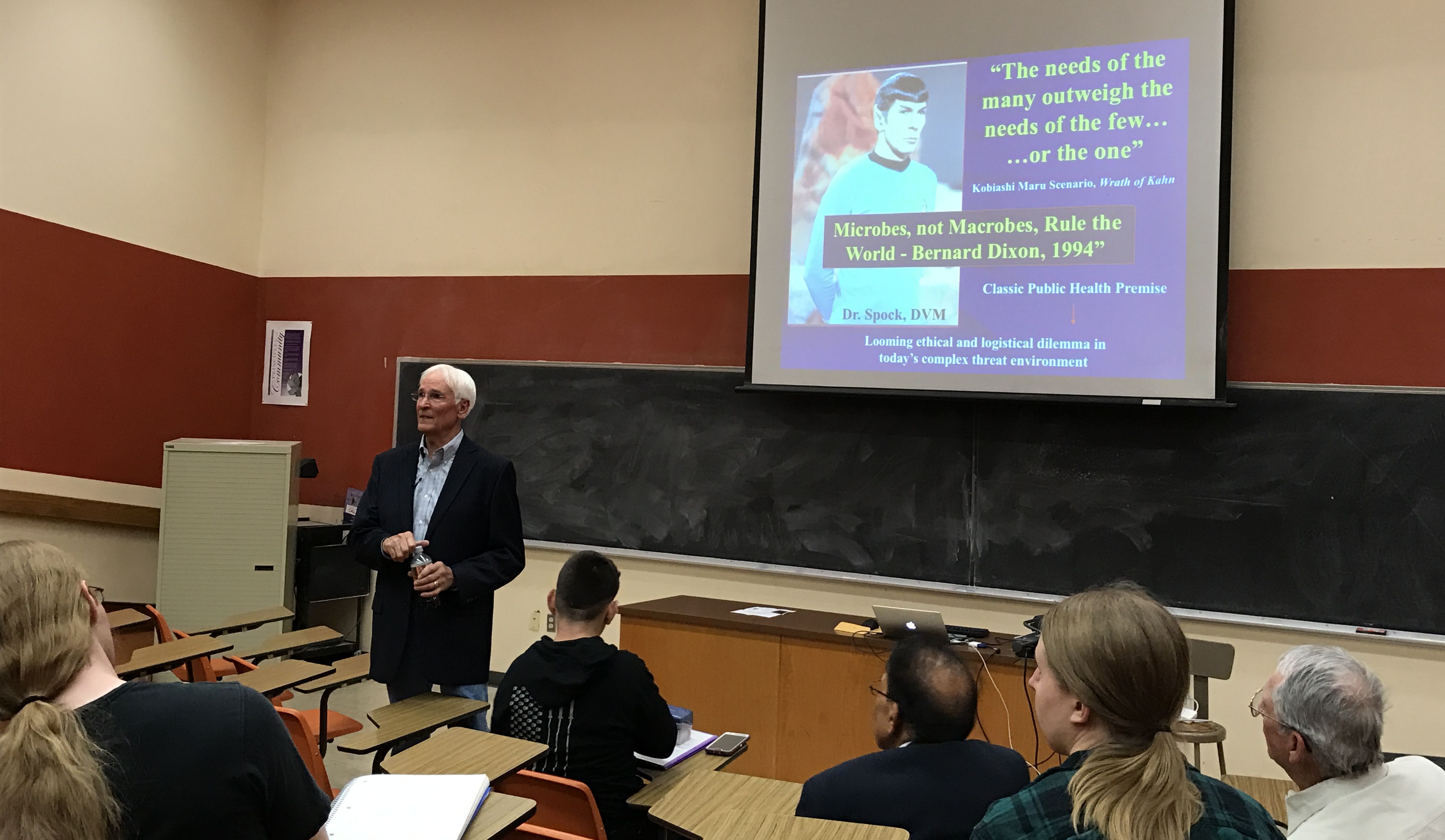 Dr. Jerry Jaax, Former K-State Associate Vice President for Research Compliance presenting the K-State Sigma Xi Student Invited Seminar recounting the first outbreak and the emergency multi-agency response to Ebola virus in Reston, VA that he was a part of in 1990. This outbreak was the basis for the N.Y. Times #1 Bestseller, "The Hot Zone" by Richard Preston.
---
2017 K-State Sigma Xi Distinguished Lecture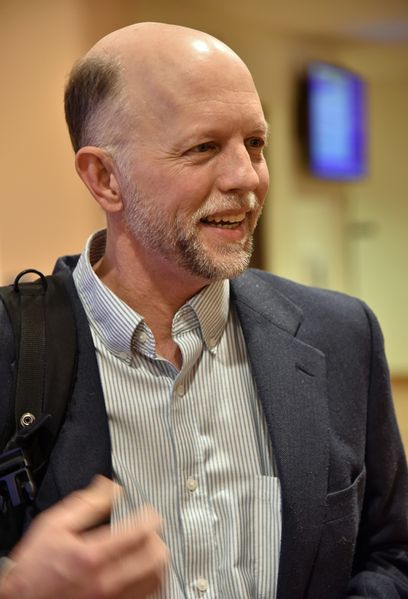 Dr. Nicholas Hud presented the 2017 K-State Sigma Xi Chapter's Distinguished Lecture "The Scientific Quest to Understand the Origin of Life." Dr. Hud is the Regents' Professor of Chemistry at Georgia Tech University and Director of the NSF-NASA Center for Chemical Evolution.
---
Science Cafe
---
Outstanding K-State Scientist Award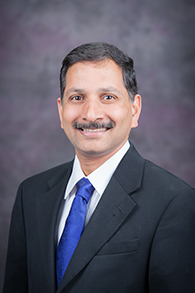 Dr. Vara Prasad, Director, USAID Feed the Future Sustainable Intensification Innovation Lab and Professor of Crop Ecophysiology, Department of Agronomy
---
Excellence in Secondary School Science Teaching Award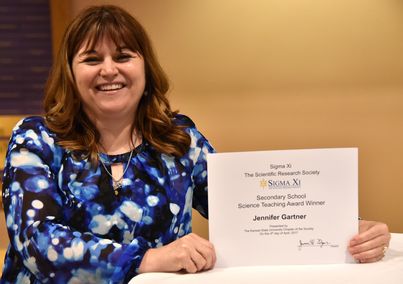 Jenny Gartner teaches chemistry, physics and AP chemistry at Labette County High School. As an influential force in multiple students' lives, Jenny has directed students to appropriate STEM related careers. Her classes involve hands on learning with awesome equipment such as white board tables and 3D printers which she obtained through grants.
---
2017 Student Award Winners
Vaithish Velazhzn

National Grant-in-Aid Winner

Jacob Alsdurf

National Grant-in-Aid Winner

Gabriel Granco

KGRAD Interdisciplinary Award Winner
2016 Sigma Xi Student Research Conference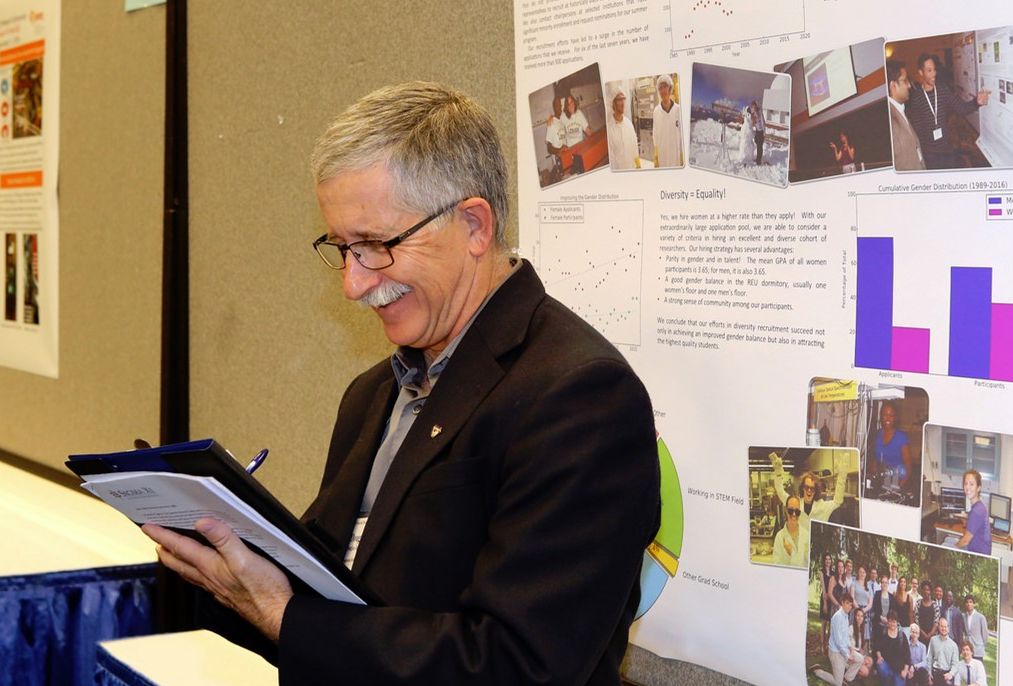 K-State Chapter delegate Doug Jardine judging posters at the 2016 Sigma Xi Student Research Conference held in Atlanta, GA
Sigma Xi Annual Meeting & Student Research Conference - See more at: https://www.sigmaxi.org/meetings-events/annual-meeting#sthash.aecAfLXt.dpuf
Sigma Xi Annual Meeting & Student Research Conference - See more at: https://www.sigmaxi.org/meetings-events/annual-meeting#sthash.aecAfLXt.dpuf
Sigma Xi Annual Meeting & Student Research Conference - See more at: https://www.sigmaxi.org/meetings-events/annual-meeting#sthash.aecAfLXt.dpuf