Danforth and All Faiths Chapels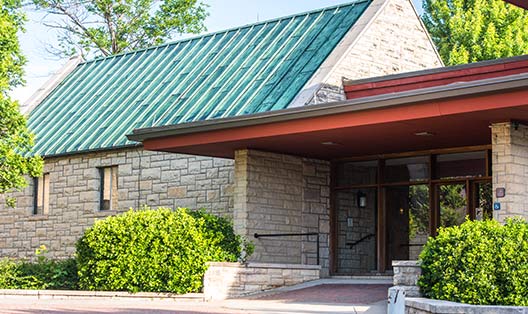 Show Danforth and All Faiths Chapels on campus map
Interactive campus map
Danforth Chapel features charming Gothic-style architecture with colorful stained glass windows imported from Czechoslovakia, England, France, Germany and Italy. While Danforth holds a crowd of 65, All Faiths Chapel seats nearly 500 visitors. All Faiths also features a 40-rank pipe organ.
Building offices
All Faiths/Danforth Chapel Reservations,

532-1712
History
Danforth Chapel was built in 1949 with funds donated by Mr. and Mrs. William Danforth. It was dedicated to Gen. Dwight D. Eisenhower to honor K-State war casualties, and is a popular venue for weddings. All Faiths Chapel was dedicated in 1956 to the memory of K-State family members who lost their lives serving in World War II and the Korean War. The 40-rank pipe organ in All Faiths Chapel was installed in 1961.