Ahearn Field House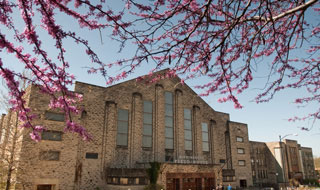 Show Ahearn Field House on campus map
Interactive campus map
With a crowd capacity of 11,700, Ahearn Field House hosts sports like volleyball and indoor track and various other events. The adjoining Ahearn Gymnasium offers even more space for events, and the adjoining Natatorium contains an eight-lane lap pool and six-lane recreational pool, both 25 meters long. The handicapped accessible Natatorium also contains a sunning deck and diving well with 3-meter and 1-meter boards.
Building offices
Center for Engagement and Community Development - CECD,

room 202

, cecd@k-state.edu,

532-6868

,

fax 532-6808

Cheerleading/Mascot, K-State,

room 17

, cheer@k-state.edu,

532-7983

,

fax 532-2761

Equestrian, Women's,

room 303

,

532-1210

Institute for Civic Discourse and Democracy,

room 202

, icdd@k-state.edu,

532-7252

,

fax 532-6808

Rowing, K-State Women's,

room 12

,

532-7027

Rural Activities,

room 202

, ruralactivities@k-state.edu,

532-5912

Tennis,

room 109

,

532-7198

Track,

room 106

,

532-6567

Volleyball,

room 101

,

532-5935
History
The construction of Ahearn Field House in 1951 created a better facility for basketball and indoor track events, which were previously held in Nichols Hall. Because the Field House capacity is 11,700, it served well for large events like concerts and indoor commencements before the completion of McCain Auditorium and Bramlage Coliseum.
In 1988 basketball games moved to Bramlage Coliseum, and Ahearn underwent renovation to better suit volleyball, track and other activities. The Field House is named in honor of Michael F. Ahearn, former K-State professor, coach, director of athletics and department head of physical education.