Sherry Fleming, Professor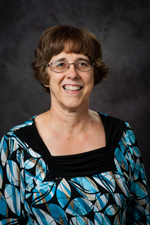 Contact information
18A Ackert Hall
(785) 532-6130
sdflemin@ksu.edu
Lab website: http://www.k-state.edu/fleminglab
Education
Ph.D. 1998, University of Colorado Health Science Center. Immunology.
Area(s) of Specialization
Innate immune response
Research Focus
The focus of my laboratory is on the complement system, natural antibodies and other innate immune molecules in autoimmunity. Although beneficial during infections, these molecules can cause excessive tissue damage during trauma, ischemia/reperfusion and autoimmunity. We have examined the damaging aspects of the innate immune response in multiple models of tissue injury with an emphasis on intestinal ischemia/reperfusion. With the development of therapeutic peptides, we are focusing on the role of beta2 glycoprotein I in multiple models of tissue injury.
Publications
Slone EA, Fleming SD. 2014. Membrane Lipid Interactions in Intestinal Ischemia/reperfusion-induced Injury. Clinical Immunology. 153:228-4.
Slone E, Pope MR, Roth M, Welti R, Fleming SD. 2012. TLR9 is indispensible for ischemia-reperfusion induced damage. Am J Clin Exp Immunol. 1:124-135.
Pope MR, Bukovnik U, Tomich JM, Fleming SD. 2012. Small β2-glycoprotein I peptides protect from intestinal ischemia reperfusion injury. J Immunol 189:5047-56.
Fleming SD. 2012. Naturally occurring autoantibodies mediate ischemia/reperfusion-induced tissue injury. Adv. Exp. Med. Biol. 750:174-185. In: Naturally occurring antibodies, H. Lutz editor.
Shishido SN, Varahan S, Yuan K, Li X, Fleming SD. 2012. Humoral innate immune response and disease. Clinical Immunology. 144:142-158.
Tomasi M, Hiromasa MY, Pope MR, Gundlaur S, Tomich JM, Fleming SD. 2012. Human β2-glycoprotein I attenuates mouse intestinal ischemia/reperfusion induced injury and inflammation. Mol. Immunol. 52:207-216.
Woods KM, Pope MR, Hoffman SM, Fleming SD. 2011. Marginal zone B cell production of pathogenic natural antibodies is CR2 dependent but C3 independent. J. Immunol. 186:1755-62.
View the
complete publication list in NCBI