Emphasis on campus safety
K-Staters discuss strategies, technology of updating community
Faculty, staff and students had the opportunity to attend a panel discussion and update session about campus safety Feb. 18 in the K-State Student Union Big 12 Room.
The session, "Safety Update to the K-State Campus in Response to the NIU Tragedy," was sponsored by K-State's crisis management committee.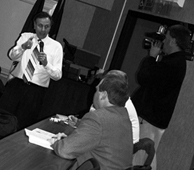 Pat Bosco, dean of student life and associate vice president for institutional advancement, moderated. Panelists included Fred Newton, director of counseling services; Derek Jackson, associate director of housing and dining services; Heather Reed, assistant dean of student life; Capt. Richard Herrman, patrol/operations, K-State police; and Cheryl May, assistant vice president for university relations.
"The dean of student life office is letting students know that counselors are available to anyone who needs assistance dealing with the tragedy at Northern Illinois University," Reed said.
Jackson told audience members, "It takes the community, the university itself, to improve or enhance or watch out for each other. I think about what we do in the residence halls and in the housing department. We have staff and students who care about one another, who look and say, 'Hey, I haven't seen you go to class for a few days. What's going on? How are you doing?'
"A lot of students are seeking out places for help. In my time of working at K-State, I think our student body does reach out well to people who need help. I would challenge the students to ramp it up even more.
"With Facebook and text messaging, you may know somebody's in a relationship that broke up. We can ask the next question: 'How are you doing?' 'How can else can I help you?'"
Newton said another way to help is by becoming a SafeZone ally. An introductory session will be from noon to 2 p.m. Wednesday, March 5. A second session may be available during June 2008. To register, visit the Women's Center Web site, http://www.k-state.edu/womenscenter/ Click on "SafeZone."
Suggestions from audience members for improving safety included implementing an e-mail version of 911; increasing police presence on campus; adding campus safety information to every class syllabus; including safety information in the orientation video; and installing telephones in every classroom.
Bosco said the suggestions would be considered.
Bosco and panelists emphasized that no single means of communication is adequate to alert the university community about a crisis, so the university has several in place:
* Reverse 911 telephone calling system. A 30-second recorded message from K-State police goes to cell phones and land lines. Offers a summary of the situation and instructions.
* Text messaging. Sent to cell phones of students, staff and faculty in Manhattan and Salina. Sign up for this service at http://www.eid.ksu.edu
* Web page override. All Web pages at www.k-state.edu automatically redirect to emergency information page.
* E-mail advisory.
* Public address system on K-State police vehicles.
* Campus carillon. In the Anderson Hall tower, used as public address system.
* Tornado warning sirens.
* Local media. K-State provides information to radio and cable television stations.
* K-State staff who carry radios.
Panelists also encouraged the use of Wildcat Walk, a service provided by K-State police between dawn and dusk. Students may dial 395-SAFE (395-7233) and an escort will accompany them to another on-campus destination or up to two blocks off campus.
Steve Broccolo, emergency management coordinator with the Division of Public Safety, said further campus safety information is available online: http://www.k-state.edu/safety/EmergencyInfo1.htm
Photo: Pat Bosco (left), dean of student life and associate vice president for institutional advancement, spoke to the university community about campus safety Feb. 18.