Expert focus
Sam Bell
Topic: Political unrest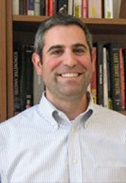 Sam Bell is an assistant professor of political science. His research examines the causes of political violence as well as the political and economic determinants and consequences of governmental transparency. Bell also helped design a model that predicts hotspots for political unrest around the world.
In Hong Kong, protestors are responding to China's decision to allow only Beijing-vetted candidates to stand in the city's election in 2017 for chief executive, Hong Kong's top civil position.
Bell can be contacted at 785-532-6842 or sbell3@k-state.edu.