Expert focus
Stephen Higgs
Topic: Chikungunya virus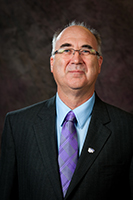 Stephen Higgs, director of the Biosecurity Research Institute at Kansas State University, is one of the world's leading researchers of the chikungunya virus — a mosquito-borne virus that causes severe crippling arthritis. Higgs has been studying chikungunya for almost 10 years, and he and his collaborators have published 30 works on the virus. They also produced an infectious clone of the disease that is widely used by other researchers, and they are assisting with efforts to develop a vaccine for chikungunya.
On July 17, Florida recently reported the first two cases of chikungunya in the U.S.
Higgs can be contacted at 785-532-1333 or shiggs@k-state.edu.