Shellenberger Hall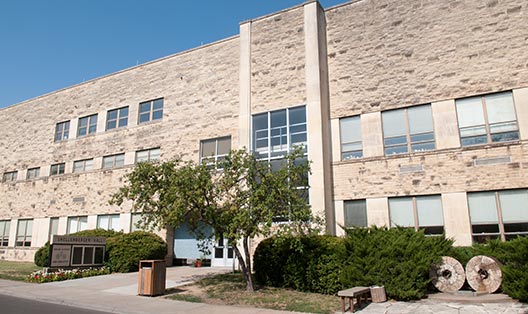 Show Shellenberger Hall on campus map
Interactive campus map
Shellenberger Hall is home to the Department of Grain Science and Industry as well as the International Grains Program. It also contains extension grain science and industry offices. The Bakery Science Club holds bake sales each Wednesday from 3 to 5 p.m. during school semesters in Shellenberger's first floor hallway. More than 100 products are sold, with proceeds supporting travel and conference costs for bakery club members.
Building offices
History
Shellenberger was completed in 1960 to replace the equipment and facilities of the milling department, which a massive fire destroyed three years earlier. Costs to build and equip Shellenberger Hall totaled more than $1 million.
The hall is named after Professor John A. Shellenberger, who became head of the milling department in 1944. Prior to this appointment Shellenberger served as a faculty member at the University of Idaho and University of Minnesota, and even acted as consultant to the Argentinean government. Many new programs began during Shellenberger's 26 years as head of K-State's milling department.