Cardwell Hall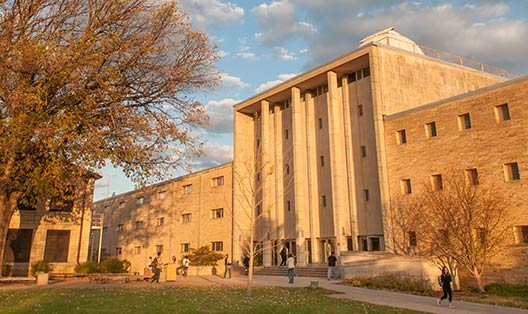 Show Cardwell Hall on campus map
Interactive campus map
Cardwell Hall houses the Department of Physics, Department of Math and a math and physics library. Unusual features of this building include the James R. McDonald Laboratory, which houses a Tandem van de Graff accelerator, atomic superconducting linear accelerator, an EBIS source of highly ionized atoms, and equipment for studying atomic collisions. Students can view the location and movement of celestial bodies from the fully equipped planetarium and the rooftop astronomical observatory.
Building offices
High Energy Physics Group - HEP,

room 116

,

532-1644

,

fax 532-6787

James R. Macdonald Laboratory,

room 116

, jrml@phys.ksu.edu,

532-6782

Mathematics, Dept. of,

room 138

, math@math.ksu.edu,

532-6750

,

fax 532-0546

Physics, Dept. of,

room 116

,

532-6786

,

fax 532-6806

Wide Band Gap Semiconductor Group,

room 116

,

532-1627
History
Cardwell Hall was built in 1963 and named in honor of Dr. A.B. Cardwell, former head of K-State's Department of Physics in the 1930s.