CMAA - Who Are We?
The Club Managers Association of America (CMAA) is the professional Association for managers of membership clubs. With close to 7,000 members across all classifications, CMAA members run more than 3,000 country, golf, city, athletic, faculty, yacht, town and military clubs. The objectives of the Association are to promote and advance friendly relations among persons connected with the management of clubs and other associations of similar character; to encourage the education and advancement of its members; and to assist club officers and members, through their managers, to secure the utmost in efficient and successful operations.
CMAA currently has more than 1,200 student members and maintains 42 student chapters and colonies at colleges and universities throughout the United States. Any student who is studying hospitality management at a 4-year college or university may apply for a CMAA student membership.
All CMAA Student Chapters must choose a senior chapter, which will serve as their mentors. K-State was "adopted" by the Oklahoma-Kansas Chapter of CMAA. Today, while maintaining our strong ties to the KS-OK Chapter (Western Kansas and Northern Oklahoma), we also maintain a close relationship with the Mid-America Chapter of CMAA (Topeka east into the western part of Missouri). Both chapters love to interact with students and actively seek students for internships each semester!!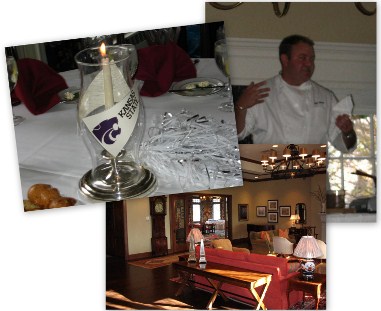 2011-2012 CMAA Officers
President: Kelly Woodworth
Vice President: Jacob Hicks
Treasurer: Brooke Nolte
Secretary: Chelsey Barnes
Advisor: Dr. Kevin R. Roberts
Meeting Dates, Times, and Locations
Spring 2011 Dates
February 21, 2011
February 24, 2011 - February 28, 2011, World Conference on Club Management, Orlando, Fl
March 14, 2011
April 11, 2011
April 29, 2011
May 2, 2011
All meetings are held in Justin 149 at 4:30 pm.
All students intereted in club management are welcome to attend!