Pat Bosco
Vice President for Student Life
Dean of Students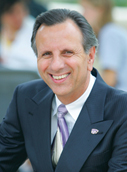 Kansas State University alumnus Pat Bosco has more than four decades of experience in higher education administration and service to the university. He is recognized as a leader in student life, enrollment management and student affairs.
Bosco is the vice president for student life and dean of students. His areas of responsibility include admissions; new student services; student financial assistance, including scholarships; career and employment services; academic assistance and student advocacy; housing and dining services; the K-State Student Union; K-State child care; recreational services; fraternities and sororities; parent and family programming; student crises; fundraising; and general student life.
Bosco previously served as K-State's associate vice president for institutional advancement and dean of students, 1987-2008; assistant vice president for institutional advancement and director of enrollment management, 1986-1987; assistant vice president for educational and student services, 1979-1986; assistant dean of students, 1973-1979; and director of student activities, 1971-1973.
He received his bachelor's in elementary education in 1971 and a master's in educational administration in 1973 from K-State. He earned his doctorate in higher education from the University of Nebraska in 1982.
As an undergraduate, Bosco served as K-State student body president from 1970-1971. He is a member of Delta Sigma Phi fraternity, Phi Delta Kappa educational fraternity and Order of Omega, a Greek honorary. He also is an honorary member of Blue Key, Golden Key and Mortar Board honor societies.
In 2004 the K-State Student Governing Association renamed the area between the K-State Student Union and Seaton Hall as the Pat J. Bosco Student Plaza in recognition of his dedication, time and energy to the university and to the enrichment of student life.
His many other honors include the K-State Student Union Vision Award in 2014; recognition by BESITOS as an outstanding advocate in 2013; named an honorary member of the National Residence Hall Honorary in 2011; the Frank Carlson Award in 2010; the Sigma Lambda Beta Exemplary Role Model Award in 2009; one of Manhattan's Most Admired People in 2004; the Robert S. Krause Alpha Tau Omega Outstanding Campus Leader Award in 2003; and the Excellence in Dedication Award in 2000 from the Kansas City Alumni Club for his quarter century of administrative service to the university. He also is the recipient of numerous service and leadership awards, including K-State's Service to Students Award, and Delta Sigma Phi's Alumni Distinguished Service Award. In addition, he has served on the board of directors of several national, state and local community volunteer agencies.
Bosco's commitment to the profession of higher education and youth is highlighted in the many keynote addresses, workshops and conferences he presents each year.
The university's Parent and Family Association, K-State Alumni Association and the School of Leadership Studies have created scholarships and recognition programs honoring his contribution to the university, including the Pat J. Bosco Outstanding Student Leader Award.
Bosco is an adjunct associate professor in the College of Education's department of educational administration and leadership and has taught undergraduate and graduate courses in the areas of higher education administration, leadership and volunteerism at K-State for the past 25 years.
He is founder and director of the Center for Leadership Development, a nonprofit consulting agency that hosts the longest-running national leadership conference for student government leaders and advisers.
He has volunteered in community youth activities for more than 35 years. His summer baseball and softball teams won Kansas state championships in 1989, 1994, 1996, 1998, 2000, 2001 and 2002.
His wife, Susan (Ariola) Bosco, earned four degrees from K-State. She is a retired elementary school teacher and media specialist with the Manhattan-Ogden school district. The Boscos have two children: Christopher and Mary Catherine, both K-State graduates who live in Kansas City.
Bosco can be contacted at 785-532-6237 or bosco@k-state.edu.