Becki Bohnenblust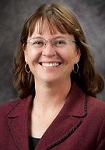 Office: Division of Biology
Address: 116B Ackert Hall
Phone: 785-532-6615
E-Mail: becki@ksu.edu
Senate Position: Co-Chair, Governmental Affairs
Short Biography:
I was born in Manhattan, KS, and raised west of Keats. My parents and grandparents still live in the Keats area along with many extended family members. I graduated from Riley County High School in 1984. After playing basketball for two years and marrying my high school sweetheart, I received an Associate of Science degree in Secretarial Administration from Fort Hays State University. My husband, Lynn Bohnenblust, graduated from FHSU with a Bachelors degree in Industrial Education. We have three children, Krista, Kascha and Zach who are active in 4-H, FFA, traveling softball, baseball, and Jr. Falcon football. Living on a farm and being involved with the kids activities, keeps me very busy.
Brief Work History:
I began work at KSU in the Controllers Office - Cashiers and Loans section, in June of 1986 as a receptionist. In 1990, I promoted to the Department of Mathematics as the accounting and personnel specialist. In July 1994, I promoted to the Division of Biology as Public Service Administrator where I have been for the past 13 years.
Personal Interests:
I enjoy working outside on the farm - especially with the sheep during lambing season - coaching and watching the girls play softball, and Zach play football and baseball. Pulling weeds in the garden is relaxing and a stress reliever for me. I love "catch and release" fishing with my family in farm ponds. A favorite pastime was riding in the combine with my grandpa during harvest and having my mom bring homemade ice cream to the field with our supper.
Additional Comments:
I am honored to represent the classified staff in the College of Arts and Sciences and want each person to know there is an open line of communication. Feel comfortable sharing ideas and concerns, so the issues can be addressed to make working at KSU a great experience for all.