Printing Production - Pressroom
Our pressroom employees are skilled in press operation and take pride in producing excellent products. Our press room is equipped with a variety of offset presses capable of handling paper from 4" x 3" up to 25" x 36". We can handle the simplest to the most complex printing designs. We produce business cards to six-color magazines, color posters to invitations, adding up to more than 5,000 jobs — or 250,000,000 equivalent 8 ½" x 11" pages — annually.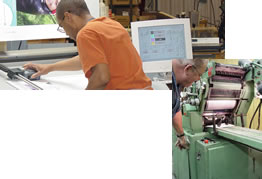 University Printing uses a Screen Platerite 4300 which is a chemistry-free thermal platemaking system.
University Printing currently prints jobs on two, two-color presses, each capable of putting two colors of ink down in one pass; one four-color press, capable of putting down four colors on one side in one pass; and a two-color envelope press.
Our printing inks are soy based. Soy-based inks:
are more environmentally friendly,
are available in brighter colors,
make it easier to recycle paper, and
are more economical.
Virtually all of our fine printing papers are recycled and contain a minimum of 10 percent post-consumer waste.
University Printing can provide offset printing on almost any type of paper stock including bond, book, text, cover, index, tag, pressure-sensitive carbonless, gummed labels, and Kraft envelopes; or any finish, including matte, gloss, vellum, linen, parchment, wove, laid, etc. Samples of paper can be reviewed in books available at our customer service office at the K-State Student Union. Paper orders are placed and delivered daily.