Need it fast? Digital Reproduction
Digital printing describes copies made from digital files or camera-ready, customer-provided originals at University Printing's high-speed digital printing center at the K-State Student Union. Our high-speed color and black-and-white digital copiers are capable of scanning and printing documents faster than normal office photocopiers. University Printing uses state-of-the-art technology to produce quality copies at competitive prices with quick turnaround times.
Digital printing is ideal for short-run brochures, fliers, books, covers, manuals, newsletters, or other materials that require speed and quality. Options available include reduction/enlargement, collating, stapling, and two-sided copying.
Finishing Options
Spiral, wire, comb, and unibinding are available, as well as laminating, collating, cutting, folding, hole-punching, padding (regular and carbonless), saddle-stitching (magazine style booklet), and stapling.
Hole-punching
We can "drill" a document providing holes for insertion into a binder. We can punch up to five holes in one pass; 1/4" is a standard size, though we also have other sizes.
Folding
Our equipment produces letter folds, half folds, and "Z" (or accordion) folds.
Cutting
The number of sides cut depends on the size of the finished document and thickness of the paper. Cutting can be provided for cards, forms, pads, tickets, etc. Just ask for an estimate.
Tab Dividers
White tab dividers are in stock with 3, 4, 5, and 6 tabs available. Other tab cuts may be ordered. These are available three-hole drilled or undrilled.
Scanning
We can convert paper documents to a digital graphic or text file.
Variable Data Printing
We now offer variable data printing (VDP or personalized printing), which produces documents customized for each recipient. Variable data printing is beneficial for direct mail or mail-merge letters, newsletters, promotions, invitations, and fliers. Please call for more information.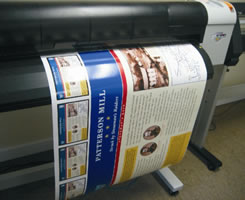 Large Format Color Printing
Running an HP 5500, University Printing can produce colorful posters and banners. High-quality gloss or matte finishes are available, and posters can be laminated and mounted on foamboard. Posters may be printed up to 59" wide and any length. Custom vinyl banners can include grommets added for easy hanging. In most cases, 24-hour turnaround is available.
Large Format Scanning
We are able to scan your large-format black-and-white or color originals up to 42" wide into digital files for reproduction on our large format printers. Scans also may be reduced or enlarged.
One-stop Printshop for Course Packs
We have longstanding experience in preparing and producing academic course packet materials. Using our electronic archiving system, we can keep the materials on file for on-demand printing or for future revisions and distribution at the counter. We also deliver to the University Bookstore or KSRE Bookstore in Umberger Hall.