Bindery
Folding

University Printing has two large-capacity folding machines that quickly and accurately fold to final size. From one sheet of paper to large multiple-page newsletters, documents are folded to a size suitable for mailing.
Saddle-stitching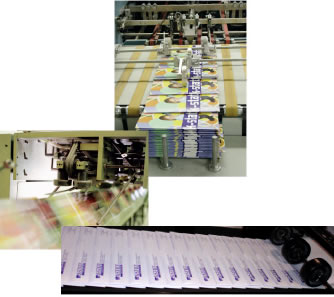 Binding a multi-page magazine or newsletter with staples on the spine is saddle-stitching. The document is placed on a machine — like a saddle on a horse — prompting the name.
Comb Binding
Comb binding has a solid plastic edge, and pages can be added to these books later. Comb binding allows documents to lie flat when open. This type of binding accommodates thicknesses up to 2 inches, and holes for the "fingers" are punched about ⅜ inch from the edge.
Spiral/Coil Binding
Spiral or coil binding uses a continuous spring-shaped spiral. Documents bound with coils lie flat when open. Thicknesses up to 2 or more inches can use spiral binding, and punches for the coils are about ⅜ inch from the edge.
Side Stitching
If you have a small booklet, around ¼ inch, side-stitching is an economical way to bind. Two staples are placed parallel to the spine near the left edge. Images and type must be designed well away from the binding edge to avoid being covered.
Perfect Binding
Perfect binding is appropriate for documents with at least 60 pages, accommodating books from ⅛ inch to 1½ inches thick. Perfect binding uses adhesive along the edges of the text sheets, binding the text to a wraparound cover. This type of binding is good for books that do not need to stay flat. Perfect binding is more complex and costly than other binding methods.
Padding
Plain paper can be padded into notepads or NCR (no carbon required) paper made into multipage forms. The standard number of sheets per pad is 25, 50, or 100.
Numbering
Forms or tickets can be consecutively numbered with barcodes or numbers.
Scoring/Perforating
Scoring is used before folding heavyweight stock to create a neat, accurate fold line. Perforating allows for tear-offs. Slot perforations, for cards, are also available.
Drilling
We can drill multiple pieces of paper at a time for binder insertion.
Diecutting
Diecutting is the process of trimming paper into a shape. It can be used to create a custom folder or a special invitation. Call for more information.
Embossing
Embossing is the process of pressing paper into a relief shape. Call for more information.
Shrinkwrapping
To keep unbound items together, ask for your order to be bundled into packages.

Other services are available. Call for more information.