TLC Highlighted Teacher of the Month
NOVEMBER, 2019
Kodde Walls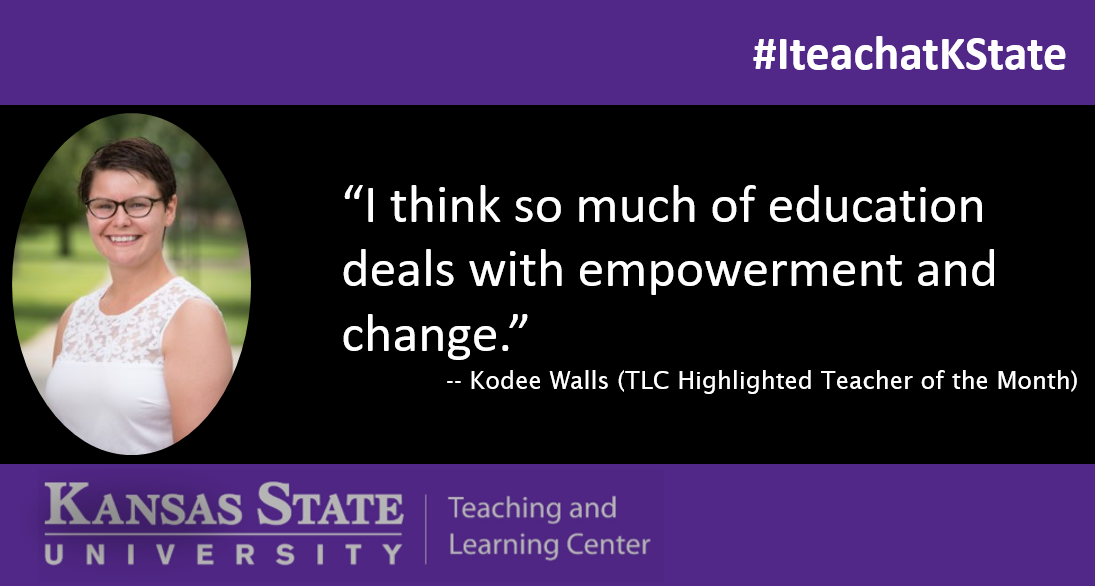 I'm Kodee Walls and the Assistant Director of Training at Counseling Services. As a therapist, I enjoy the opportunity to engage with students and become a catalyst for change in their lives. Collaborating with my clients gives me great satisfaction because I'm empowering them to cultivate resilience in the face of adversity. As a Training Director, I relish the opportunity to foster the metacompetence, self-assessment, and self-reflection essential for competence in clinical work. I also teach the online Stress Management course (EDCEP 502), which helps flex my technological pedagogical skills. Reaching students via Global campus truly makes the world feel personally accessible.
Click HERE to view a video on Kodee and her teaching.
OCTOBER, 2019
Kevin Sauer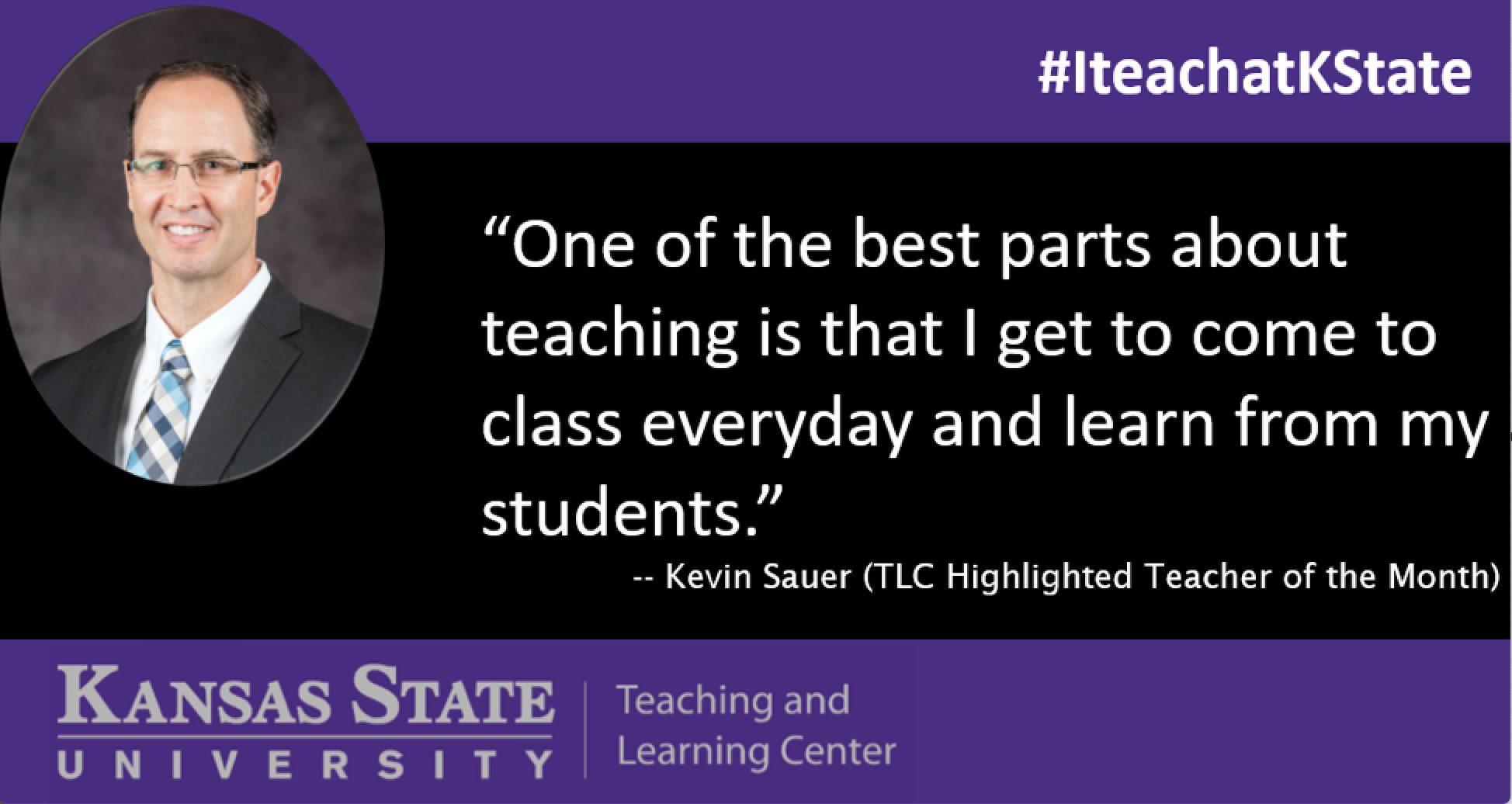 "Teaching is - people-centered, customer-focused, about a shared academic experience that is not only memorable, but that is also useful throughout life. I refer to this aspiration as my Lifetime Teaching Warranty. I care deeply about providing on-campus and on-line student customers with the necessary and current technical knowledge, but just as much about their professional growth, continual self-improvement, and especially, their motivation to teach and develop others. I really can't imagine not have the opportunity to teach, and regardless of the course, class size, or the subject matter - one of the best things we can do for K-State students is to make sure that they understand our passion for teaching." -- Kevin Sauer (Associate Professor, Department of Food, Nutrition, Dietetics, and Health)
Click HERE to view a video on Kevin and his teaching.
Tara Coleman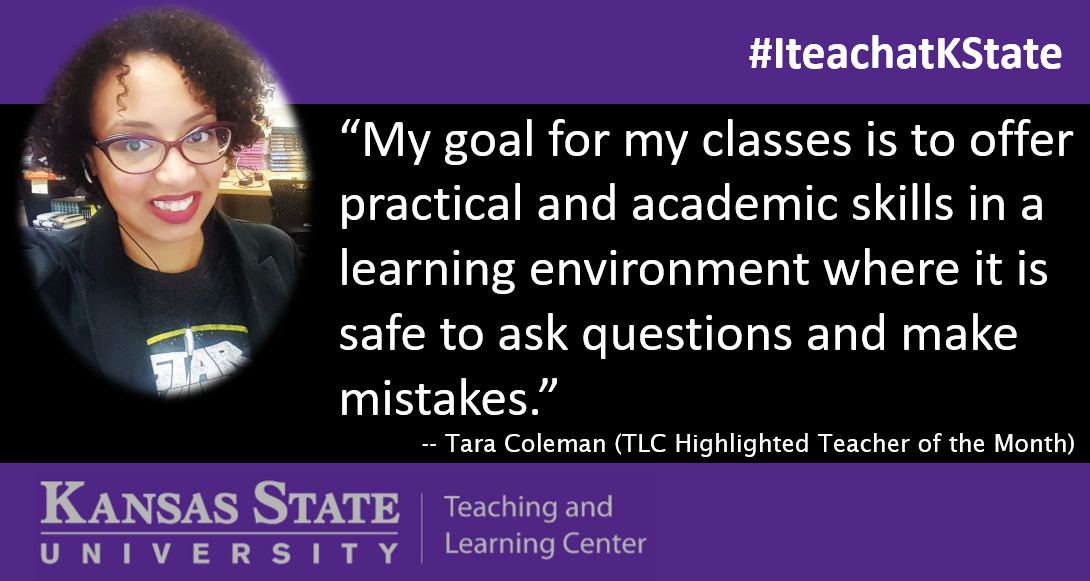 "My name is Tara Coleman. I am an Associate Professor for K-State Libraries. When I'm not helping patrons at the reference desk, I coordinator of the Libraries' Dow Center for Multicultural and Community Studies and chair the K-State Book Network (KSBN), the university's common reading program.
I love working with students and strive to make finding information and learning new things an engaging activity that will lead to lifelong learning. Youth advocacy and first year student success is important to me and I try to use my experience and knowledge to create a space that will help students thrive." -- Tara Coleman (Associate Professor, K-State Libraries)
Click HERE to view a video on Tara and his teaching.
Tamara Bauer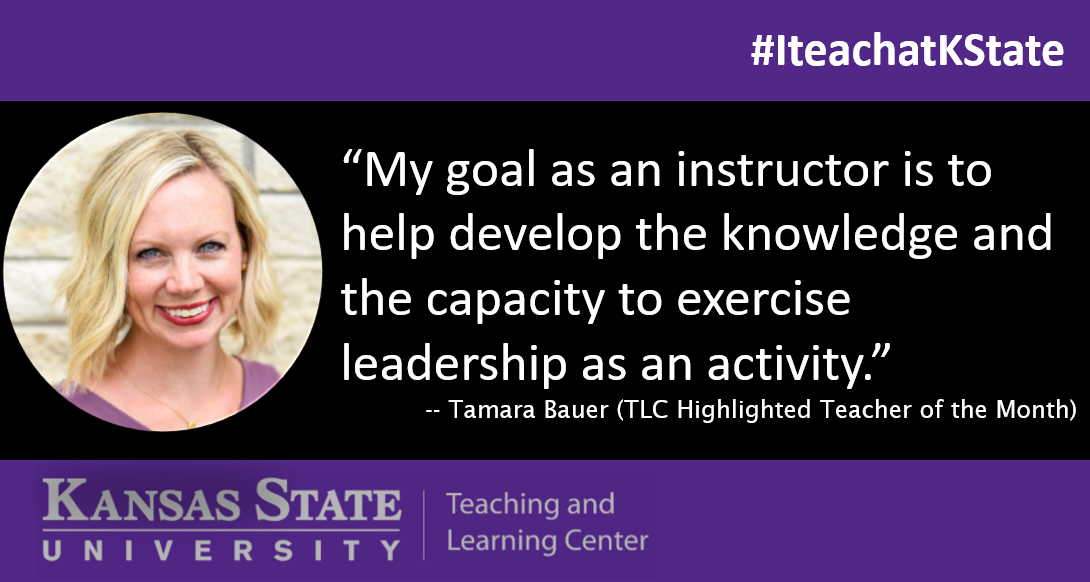 My name is Tamara Bauer and I am an instructor at the Staley School of Leadership Studies. I love that every day I have an opportunity to partner with students in powerful ways to engage in the process of learning. Designing curriculum and learning opportunities that engage students in the process of learning is my passion…and seeing it come to life in the classroom is such a gift! This fall I am teaching LEAD 212: Introduction to Leadership Concepts and work with over 700 students (mostly first-year) and 50 Class Leaders. I also teach a CAT Community class called "First in the Family" for first-generation students.
In addition to working with students, I enjoy facilitating leadership development with varied stakeholders from community organizations, to businesses, all the way to Ghana. On campus I am involved with the Snyder Leadership Legacy Fellows, the New Faculty Institute, Wildcat Dialogues, and Cats' Cupboard advisory board.
Click HERE to view a video on Tamara and his teaching.
SEPTEMBER, 2019
Mariya Vaughan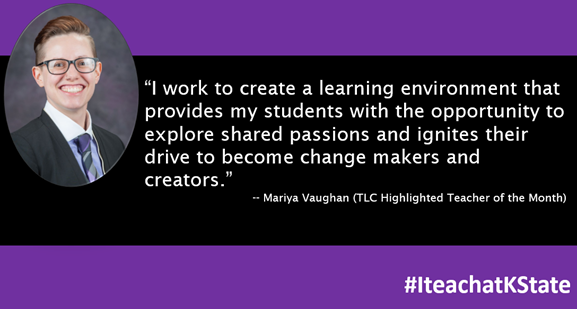 My name is Mariya Vaughan, and I am the assistant director of K-State First. K-State has been my home since 2004, when I began my bachelor's degree in graphic design, and then went on to earn my master's degree in English and women's studies. working as a GTA, I unexpectedly found a love and passion for teaching that has shaped my career ever since. I began working for K-State First in 2014, where I manage the program's daily operations, coordinate GPS mentoring, lead communications, marketing, and recruitment efforts, and work closely with students as a teacher, mentor, and advisor. I teach the Fiction into Film First-Year Seminar and the Muggle Studies: How Harry Potter Shaped the World CAT Community and leverage my own and my students' love of all things nerdy to foster an engaging and collaborative learning environment. (Click HERE to learn more about Mariya)
kevin Wanklyn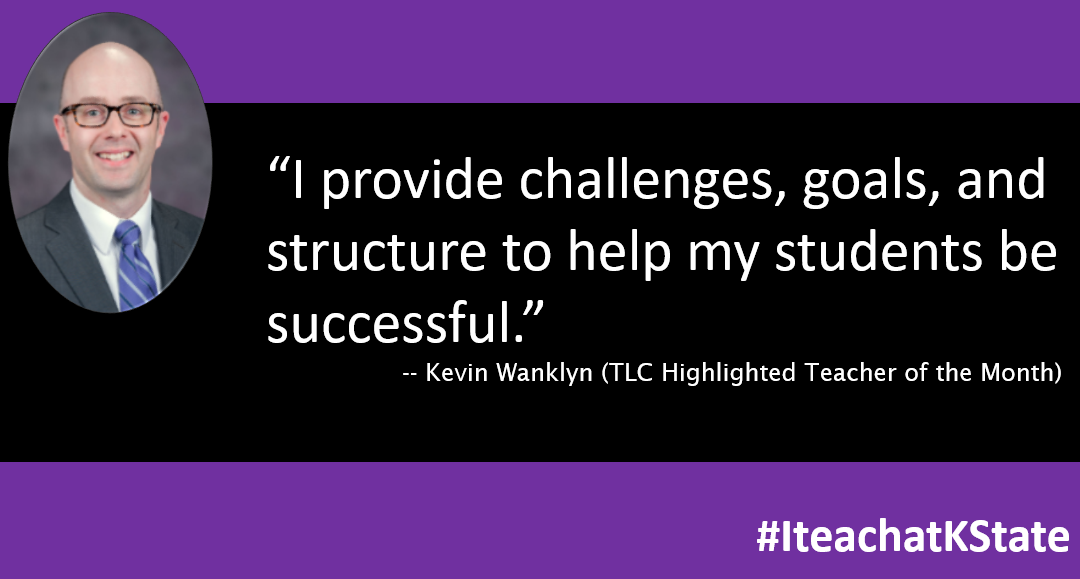 My name is Kevin Wanklyn and I am a Teaching Associate Professor in the Alan Levin Department of Mechanical and Nuclear Engineering. I also serve as the Undergraduate Program Director for the department as well as both an academic and creative inquiry team advisor. I earned all my degrees from K-State, so I feel a strong connection to the students in my classes. I strive each day to create an academic experience that is challenging yet fair, rigorous yet fun, and professional yet personal. In my view, that is the K-State Way.
Click here to view Dr. Wanklyn video where he talks about his teaching strategy at K-State