2010 - Seventh Annual Teaching Retreat
"Meeting Students Where They Are"
Invitation
Call for Proposals / Proposal Template
Program Schedule
Retreat Video
Keynote Speech
Improv Drama Troup
Concurrent Session: Abstractions & Presentations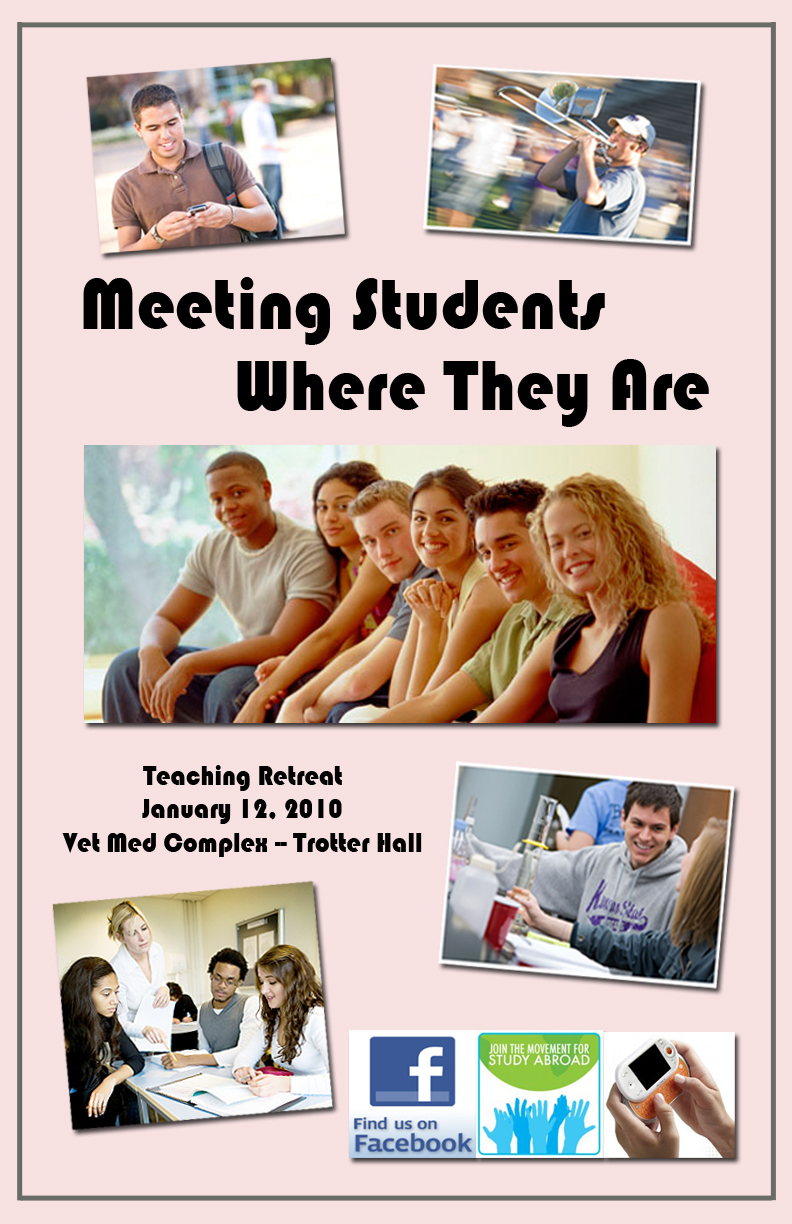 Retreat Invitation
You are cordially invited ~ FETE Retreat 2010 ~
"Meeting Students Where They Are"
8:30 a.m. - 2:00 p.m., January 12, 2010
Vet Med Complex - Trotter Hall
Visit During Coffee & Registration - Participate In a Stimulating Program - Enjoy Delicious Lunch and Dessert - Experience a Never-Seen-Before Dramatic Ending. Come!
Call for Proposals + Session Proposal Template
"Meeting Students Where They Are" Tuesday, January 12, 2010
Proposals due on or before: December 5, 2009
Presenters will be notified by December 15
Concurrent sessions will be scheduled for 40 minutes.
Selection criteria:
applicability to other disciplines
potential interest for a diverse audience
interactive presentation
new ideas/best practices/clever tips/problems for discussion
General topics that might fit the theme of meeting students where they are:
21st Century Learning
Planning for Millenials
Teaching for a future we can't see
Authetic learning
Teaching and Learning to Think
Engaging technologies to engage students
F2F OMG LOL
Keeping up with Generation Y
www - whatever, whenever, wherever
Are You a Helicopter Teacher?
The Age of Entitlement
Social Networks - the new social scene
Reading? Writing? 'Rithmetic?
Are smart phones smart for class?
FB: Friend accepted!
Diversity = The Norm
Providing structure for Y learners
Tweet, Flickr, and Go!
Concurrent Session Proposal Template
SESSION TITLE:
PRESENTER(S):
NAME/PHONE/EMAIL:
EQUIPMENT NEEDS:
SESSION ABSTRACT (~100 words):
Please submit the information requested above via e-mail or campus mail --on or before December 5 to the CATL office.
Program Schedule
8:30 - 9:00 Registration & Coffee, Trotter Entry
9:00 - 9:15 Welcome: Dean Ralph Richardson, Trotter 201
9:15 - 9:45 Today's Students: Dr. Emily Lehning, Trotter 201
10:00 - 10:40 Concurrent Sessions #1, See Abstracts
10:50 - 11:30 Concurrent Sessions #2, See Abstracts
11:40 - 12:20 Concurrent Sessions #3, See Abstracts
12:30 - 1:15 Buffet Lunch, Trotter 2-Cafeteria
1:15 - 1:30 Data & Dessert, Trotter 407
1:30 - 2:00 Improv Drama Troupe, Trotter 407
2:00 Tour: Veterinary Medicine Complex, TBA
Video Clip: Seventh Annual Teaching Retreat. 1/12/10
Keynote Speech:
Dr. Emily Lehning, Vice President of Student Life at Kansas State University
(Power Point Slides)
Improv Drama Troupe