New Faculty Institute
About the New Faculty Institute
Welcome to Kansas State University! K-State's New Faculty Institute (NFI) is a university-wide program to introduce newly hired faculty to our missions of teaching, research and service, and to facilitate their success at K-State.
The NFI will offer information, networking, and professional development. NFI participants first meet at the New Faculty-Staff Orientation during August, and then at four sessions each semester during the academic year.
Goals and Outcomes
NFI facilitates the transition of newly-hired faculty members into the K-State academic environment by providing information and tools, helping the new faculty become successful as educators and researchers at Kansas State University.
Participants of the K-State New Faculty Institute will:
Make contact, establish relationships, and initiate a professional network with peers and established faculty;
Become knowledgeable about Kansas State University;
Develop a sense of belonging to the K-State university community;
Take steps toward successful involvement in K-State's missions of teaching, research, and service; and
Become proactive participants in a life-long professional development process.
Upcoming Events
Please click here for the Spring 2023 schedule of events and how to RSVP.
Want to learn more?
If you are interested in getting timely updates about the New Faculty Institute, please email tamara@ksu.edu to be added to the listserve.
The NFI is open only to new faculty members in their first or second year at K-State. Most newly hired faculty members will be informed of the New Faculty Institute by their department heads.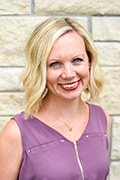 Tamara Bauer
NFI Coordinator
Instructor
Leadership Studies
tamara@k-state.edu
785-532-6085
Pictures From Past Events