Sustainably Intensified Production Systems Impact on Nutrition (SIPSIN)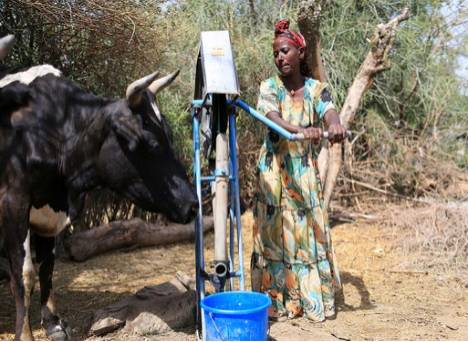 Summary: The project will evaluate the implications of sustainable intensification of crop and livestock production systems (SIPS) on human nutrition in northern Ethiopia. The existing infrastructure and ongoing research and development of the Innovation Lab for Small Scale Irrigation (ILSSI) in the Lake Tana basin of Northern Ethiopia will be used as a platform to efficiently conduct research to evaluate SIPS for crop and livestock production and their environmental, economic and nutritional consequences. There are three goals for this project:
To provide an increased and more stable income for smallholder farmers

To improve the capacity for these farmers to improve the status of nutrition, especially for women and children

To increase t

he sustainable use of natural resources and offer the possibility of enhanced long-term improvement in agroecological health.
In addition to monitoring ongoing ILSSI projects and extending them to SIPSIN products, new projects involving livestock-fodder and kitchen-garden systems will be specifically directed to SIIL objectives. The results of these interventions will provide input to the Integrated Decision Support System (IDSS), adapting its application from small-scale irrigation to sustainably intensive production system assessment. The IDSS will be used for the systems analysis of the consequence of intensified production systems at the Lake Tana sites and will further develop the modeling framework for future application in other sites in Ethiopia and other SIIL countries.
2018 Progress Updates
Field studies by ILRI and ASMC were concluded and results show sustainably intensified production systems focusing on irrigation for smallholders in northern Ethiopia produce more food, are more profitable, and sustainable over time.


Irrigation pumps reduce the labor required to irrigate a hectare of land from 108 and 80 person days per year to 48 and 14 person days per year for men and women, respectively. This translates into a reduction of 56% and 137% for men and women, respectively.


Household surveys analyzed demonstrated improved diet diversity and nutrition outcomes in families using irrigation. Preliminary findings show children in households utilizing irrigation have higher weight for height score, indicating lower acute malnutrition (wasting). These findings will be explored more thoroughly in FY 2019.


ILSSI and IFPRI methods for scaling are moving the results of SIPSIN field studies to the national level in Ethiopia where they are available for planning and evaluating new national or regional policies involving sustainably intensified production systems centered on irrigation.


A second round of finger prick surveys measuring anemia and malaria in women and children (in SIPSIN households) was conducted in the rainy season. No malaria was found in the first dry season, and almost no malaria was detected during the rainy season. Slightly higher anemia levels were observed in the dry season compared to the wet season.