Unlocking the production potential of "polder communities" in coastal Bangladesh through improved resource use efficiency and diversified cropping systems
Lead Institution: Kansas State University
Award Amount: $999,508
Focus Country: Bangladesh
Visit the SIIL Polder Project Website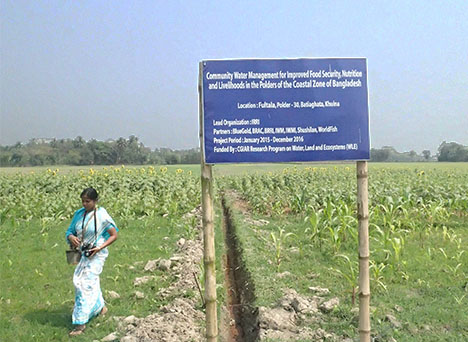 Principal Investigator: Krishna Jagadish SV - kjagadish@ksu.edu
International Collaborating Institution(s):IRRI-Bangladesh, BRAC, Khulna University

Summary: The coastal region of Southern Bangladesh is home to some of the world's poorest, most food-insecure, malnourished and socioeconomically-challenged people. Despite significant investment in the development of the region, extremely low farm productivity is a persistent obstacle for improving the food and nutrition security and livelihoods of about a million farming families. The goal of this project is to increase farm income and nutrition security by intensifying polder farming systems through implementation of sustainable and economically-viable practices. The main challenges encountered by polder communities for intensification of production systems are ineffective water management and inadequate drainage infrastructure. These have invariably resulted in the use of low-yielding traditional rice varieties and minimal dry-season crop production. This project aims to work with the farming community in a pilot subpolder, which is about 600 hectares, to develop and adapt cropping-system options for sustainable intensification, together with improved drainage management. The project will build on past achievements and proactively work with ongoing programs. Specifically, the project will advocate improved high yielding and stress-tolerant rice varieties, including rice higher in zinc content, improve productivity of rice and fish cultivation and introduce high value dry-season crops to significantly increase farm income and improve household nutrition. New opportunities for income generation for farm women will also arise by introducing new management technologies and dry-season crops.
2017 Progress Updates
The project has created an enabling environment for early establishment of rabi crops by introducing high yielding varieties (HYV) of rice in the wet season and empowering water management organizations to the water environment in polders through drainage. Most farmers who opted to grow HYV rice and were in a position to harvest early were able to achieve a rabi crop (only 28% fallow), while most farmers growing the traditional long duration rice had their land fallow (70% fallow). This suggests that there is an opportunity in similar polders to introduce a rabi crop with improved and moderately mechanized rice management.

Although there was excitement with the introduction of the mechanical transplanter and mat nursery as an additional source of income, the reaper introduced to reduce the drudgery of rice harvest was received with great excitement, with a few farmers interested in purchasing the unit and taking up the role of service providers.

The project arranged for the private company ACI Motors Limited to visit polder 30 to provide training on a battery operated sprayer and the PTOS. The engagement of ACI Motors Limited also prompted the project to discuss the potential for the company to consider introducing simple machinery and presenting opportunities for expansion.

The project conducted demonstrations and adaptive trials on the rice and fish cultivation system, utilizing both individual farmer and community models in 2016-2017. Although the community model did not result in profit gains, it reported a better rice yield for the year. The individuals that farmed fish were able to make a modest profit. In both models, approximately 30% of the fish harvested was consumed.
Meet the Project's Students
Biswajit Baidya
Md. Shakhawat Hossain
Sujat Ahmed
Tapatia Roy
Deb Kumar Nath
Mohammad Ali
Most Habiba
Priyanka Saha
Puja Roy