Unlocking the production potential of "polder communities" in coastal Bangladesh through improved resource use efficiency and diversified cropping systems
Lead Institution: Kansas State University
Award Amount: $999,508
Focus Country: Bangladesh
Visit the SIIL Polder Project Website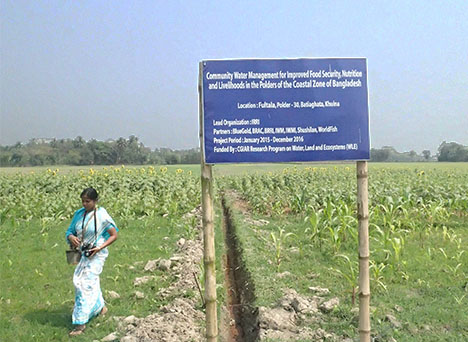 Principal Investigator: Krishna Jagadish SV - kjagadish@ksu.edu
International Collaborating Institution(s):IRRI-Bangladesh, BRAC, Khulna University

Summary: The coastal region of Southern Bangladesh is home to some of the world's poorest, most food-insecure, malnourished and socioeconomically-challenged people. Despite significant investment in the development of the region, extremely low farm productivity is a persistent obstacle for improving the food and nutrition security and livelihoods of about a million farming families. The goal of this project is to increase farm income and nutrition security by intensifying polder farming systems through implementation of sustainable and economically-viable practices. The main challenges encountered by polder communities for intensification of production systems are ineffective water management and inadequate drainage infrastructure. These have invariably resulted in the use of low-yielding traditional rice varieties and minimal dry-season crop production. This project aims to work with the farming community in a pilot sub-polder, which is about 600 hectares, to develop and adapt cropping-system options for sustainable intensification, together with improved drainage management. The project will build on past achievements and proactively work with ongoing programs. Specifically, the project will advocate improved high yielding and stress-tolerant rice varieties, including rice higher in zinc content, improve productivity of rice and fish cultivation and introduce high value dry-season crops to significantly increase farm income and improve household nutrition. New opportunities for income generation for farm women will also arise by introducing new management technologies and dry-season crops.
2018 Progress Updates
Empowered the members of the water management organizations on water governance and in-polder water management necessary for adoption of improved production systems in the polder zone.

Evaluated the potentials of integrated community rice+fish culture in polder ecosystem for improved nutrition. Due to this initiative, 44 households consumed 333 kg of fish in the reporting year.

Harvesting rice by machine (reaper) reduced both time and labor, with a few community members considering to buy reapers and to act as service providers. More units of the reaper will allow for more synchronized harvesting, making way for early establishment of rabi crops.

Introduced Learning Hub model for upscaling of improved production systems and associated technological approaches and evaluated by the SIIL-Polder Project in the polder ecosystem.

Empowered 2000 farmers, officials of water management organizations and public representatives on various aspects of crop and water management, agricultural mechanization and nutrition in the reporting year in which 40% were women.

Enhanced regional support and integration through knowledge sharing platform- volume 4 and most recent volume 5 serve as supportive documentation.