ALUMNI & FRIENDS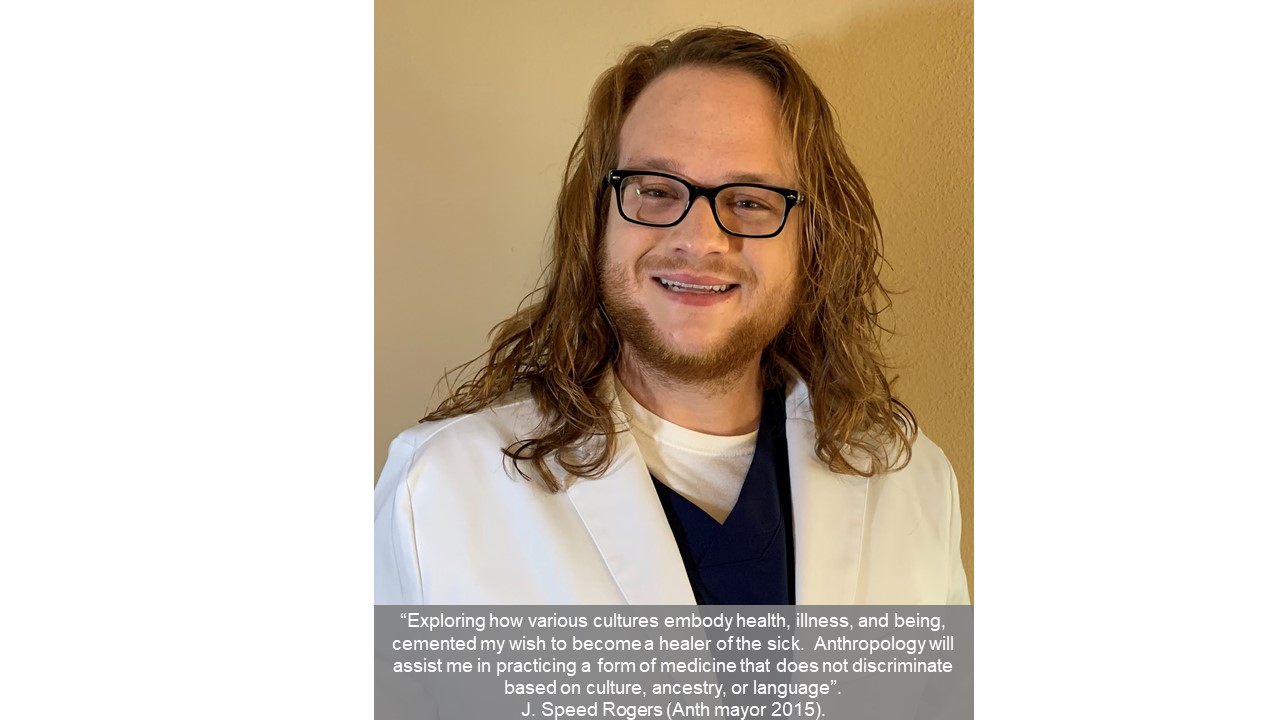 Our alumni are successful professionals in anthropology, health, law, as well as governmental and non-governmental organizations (among others). Learn more about what is happening in the Anthropology program, our alumni, and support the future of our current students by giving to the Anthropology Program.
ALUMNI & CAREERS
---
Get in touch with other alumni, friends, and current students at KSU Anthropology Alumni Facebook page, and follow us at Kansas State Anthropology on instagram for our latest news.
CAREERS IN ANTHROPOLOGY
Laura Bathurst (Anth major, 1997)
After Graduation, Laura returned to the US and received a Mellon Fellowship to pursue her doctoral studies in Cultural Anthropology under (University of California-Berkeley). After a year of fieldwork among the Takana, an indigenous ethnic group in the tropical forest of northwest Bolivia, she completed her dissertation (PhD) in 2005. She currently serves as an Assistant Professor of Anthropology at the School for International Relations, University of the Pacific.
Lucas Bessire (Anth major, 2001)
Upon graduating from K-State's anthropology program, Lucas was awarded a Fulbright scholarship to conduct ethnographic research in an Ayoreo Indian village in Bolivia. He then went on to pursue graduate studies in anthropology at New York University, during which he received a Mellon Foundation Fellowship (2002), followed by several other awards. Dr. Bessire is currently an Associate Professor at the University of Oklahoma (to learn more visit Lucas webpage!).
Chris A. Deter (Anth major, 1996)
Chris was a self-described 'ski-bum' from Colorado. While at K-State, Chris traveled to Namibia, an experience that sparked her interest in anthropology. After graduation, Chris helped in the recovery of the remains of Maya peoples killed during during brutal political regimes. From Guatemala, Chris left for England, where she pursued her graduate studies at the University of Sheffield, and went on to research ancient human teeth at the University College of London (PhD 2007). Dr. Deter is now a Senior Lecturer at the University of Kent, in England.
Rose Ediger (Anth major, 2001)
After graduation Rose completed an Anthropology Masters (MA) and Doctorate Degrees at the American University, Washington DC. Rose has worked as a research assistant at the National Museum of Natural History, Smithsonian Institution, and presents her research at international conferences. She is currently an Adjunct Associate Professor at the Johnson County Community College.
John Hawks (Anth major, 1994)
After graduating with multiple (Anth, English and French!) degrees from Kansas State John won a prestigious fellowship to study paleoanthropology under Dr. Wolpoff at the University of Michigan-Ann Arbor. He is now Vilas-Borghesi Distinguished Achievement Professor of Anthropology at the University of Wisconsin-Madison, and is recognized as one of the world's foremost authorities on Neanderthals. He also is a key researcher into recently discovered Homo naledi finds in the Rising Star cave system in South Africa. Check out Dr. Hawk's amazing paleoanthropology weblog.
Madison Huber-Smith (Anth major, 2004)
Madison completed her anthropology major, and then obtained an MA in cultural anthropology from the University of Kansas (2011). She is now an Adjunct Associate Professor in anthropology at Johnson County Community College (JCCC). When not teaching, she spends her time working for the Center for American Indian Studies at JCCC and contributing to research conducted by a public health team at KU Medical Center. She also pursues her own research, working with a social worker from KU to study a local school district's ability to adapt to a growing Latino population.
Jenny [Schrag] James (Anth major, 1994)
As an under-graduate anthropology student, Jenny spent a summer studying Mennonite-Indian relations in the Gran Chaco of Paraguay. After graduation Jenny completed an MA in applied cultural anthropology at the University of Arizona. Jenny became a researcher at the Bureau of Applied Research in Anthropology, and also worked for the National Parks Services. In 1999, Jenny moved to San Diego where she founded the San Diego office of an applied social science research firm and is now a partner at Harder+Company.
Ryan Klataske (Anth major, 2006)
While an undergraduate at K-State, Ryan studied in Spain and Mexico and taught English in China. Ryan completed his Masters (2009) and PhD (2017) in anthropology at Michigan State University. In addition to his anthropological expertise, Ryan has received training in ecology and environmental sciences. Although he always enjoys exploring new places, Ryan holds a special affection for his home and family ranchland in the Flint Hills of Kansas. Ryan is currently an adjunct professor in our own program, and an ethnographic consultant.
Kelsey Kreiser (Anth major, 2014)

After graduating from K-State, Kelsey entered the University of South Florida Applied Anthropology program, where she completed a Masters in archaeology (2018). Kelsey is one of the directors of the Central Gulf Archaeology Society.
Clark Spencer Larsen (Anth major, 1974)
After completing his BA with us, Clark obtained a PhD in anthropology at the University of Michigan-Ann Arbor (1980). In 1999 Clark became the Amos Hawley Distinguished Professor of Anthropology at the University of North Carolina, Chapel Hill. That same year, he was elected President of the American Association of Physical Anthropologists (1999-2001). In 2002, he became a Distinguished Professor of Social and Behavioral Sciences at Ohio State University. In 2016 Dr. Larson was elected to the National Academy of Sciences.
Robert J. Losey (Anth major, 1994)
Upon graduation, Rober packed his bags and moved to Oregon, where he obtained a Masters (1996) and a PhD (2002) in Anthropology from the University of Oregon. Shortly after (2003) Robert became a post-doctoral research fellow at the Smithsonian Institution. Specialized in zooarchaeology, mortuary archaeology, and ethnography of the Pacific Northwest and Siberia, Robert is currently an associate Professor at the Department of Anthropology, University of Alberta.
CAREERS IN GOVERNMENTAL & NON-GOVERNMENTAL INSTITUTIONS
Brian Becker (Anth major, 1996)
In addition to his Anthropology major, Brian earned B.S. degrees in Wildlife Biology (1996), and Natural Resources and Environmental Sciences (1997) white at KSU. He then served as a Peace Corps Volunteer in Nepal from 1997-2000. In 2004 Brian received his M.S. (University of Florida) in Agroforestry. Brian is currently a GIS Specialist at Albemarle County.
Bruce Broce (Anth major, 1994)
After graduating, Bruce spent a season in Queretaro, Mexico, where he taught English as a second language and pursued visual ethnography. He then continued his graduate studies in visual anthropology at Temple University, Philadelphia (MA). After completing his Masters degree, Bruce directed excavations to recover and identify the remains of those murdered during the military dictatorship in Panama (his father's homeland). Bruce also did ethnographic fieldwork with Emberra Indians on Panama's Pacific coast. After several years of working for Panama's Truth Commission, investigating human rights violations and crimes against humanity, Bruce returned to Temple to complete his doctorate in anthropology, briefly taught visual anthropology at the University of Vermont, and now works at the Jewish Family Center in Kansas City.
Eleanor Dickens (Anth major, 2016)
Ellie finished her undegraduate degree and quickly moved to Washington DC, where she completed an MA in International Economics and International Law and Organization (2018). She is currently a Research Fellow at Harvard University, Bloomberg Harvard City Leadership Initiative.
David R. Howell (Anth major, 1971)
Once his undergraduate degree was completed, David moved to the east coast, where he completed a Doctorate (PhD) in cultural anthropology at the University of Virginia. He had a very successful career with the US Federal Government where he served in various positions with the Department of Health and Human Services, Commission on Immigration Reform, Immigration and Naturalization Service, and Citizenship and Immigration Services. He is currently an independent consultant.
Jennifer Macy (Anth major, 1996)
After finishing up her BA with us, Jenni obtained a Masters degree (2001) in anthropology/archaeology at the University of Kansas. Jenni spent several years conducting cultural resource compliance for an engineering company in Bismarck, North Dakota, and Billings, Montana. Jenni is now an Archaeologist with the Bureau of Land Management in Billings, Montana.
CAREERS IN HEALTH
Mitchell Frye (Anth major, 2007)
After graduation, Mitch worked for a short time as an archaeologist. He returned to K-State to earn a degree in audiology, and then completed his Doctor in Audiology (Au.D) at Wichita State University (2015). Mitch completed his PhD at the University of Buffalo (2018), and is currently at Rush University Medical Center, in Chicago.
James Speed Rogers (Anth major, 2015)
After graduation Speed went Duke University where he completed a degree in Biomedical Sciences. Speed's passion for Anthropology, health, and human rights has led him to is pursue a degree in medicine. He hopes to work on HIV/AIDS to help those that needed it most. Speed has said that "Exploring how various cultures embody health, illness, and being, cemented my wish to become a healer of the sick, and anthropology will assist me in practicing a form of medicine that does not discriminate based on culture, ancestry, or language."
Preston M. Stephens (Anth minor, 2012)
After graduating from K-State, Preston completed his MD training at the University of Kansas School of Medicine, Kansas City. Preston is a Board Certified Family Physician and is currently at the Deparment of Family Medicine and Community Health at the University of Wisconsin School of Medicine.
CAREERS IN LAW
Christine Changho Bruneau (Anth major, 1994)
After graduating Chrissy traveled to the Philippines, where her father's family had lived for several generations. She then returned and studied law at Tulane University Law School (JD 1998). Christine specialized in environmental law, and general civil litigation. Chrissy has become a prominent lawyer in Louisiana. She has been admitted to the bar in several U.S. District Courts of Louisiana and Texas, and the U.S. Court of Appeals, Fifth Circuit. A member of several legal associations, including the Association for Women Attorneys in Louisiana, she is an Associate in the professional law corporation Abbott Simses, New Orleans.
Ian Huyett (Anth minor, 2013)
Upon completing his undergraduate studies, Ian pursued a Law degree at Washington and Lee University (J.D. 2018). He is currently a Litigator, who focuses on religious liberties and related areas.
Daniel Keating (Anth major, 2006)
After graduation, Daniel completed a Masters Degree in archaeology at the University of Kansas. While performing archaeological fieldwork in western Kansas and in the Middle East, Daniel became interested in the dynamic interplay between the law, public policy, culture, and environment as it relates to the use of water. In pursuit of this interest, Daniel completed his law degree at the University of Kansas. Daniel is currently a practicing attorney in the Kansas City area and also serves as General Counsel for Experience Baseball, an NGO that promotes social justice among baseball fans and supports at-risk youth development, which was founded by fellow KSU anthropology alumnus Tobias Blake.
Abra Lyman (Anth major, 2000)
While an undergraduate at K-State Abra was active in Amnesty International, the African Student Union, Phi Beta Kappa, and served as editorial assistant for the Visual Anthropology review section of the journal American Anthropologist. After almost a year in Kenya, she returned to the US and worked for Cultural Survival, a non-profit organization dedicated to promoting the rights of indigenous peoples worldwide (2001-2003). Deciding upon a politically-meaningful career in human rights, Abra pursued a graduate (anthropology) and Law degree at the American University in Washington DC. Abra is an Indigenous Rights Attorney in the Washington DC Metro area.
ANTHROPOLOGY NEWSLETTERS
---
GIVE TO ANTHROPOLOGY
---
Alumni and friends are at the core of the Anthropology community in Kansas State. All alumni and friends are vital to the past, present and future of Anthropology at Kansas State University. Your contribution is extremely important to us, as we work to remain one of the best undergraduate anthropology programs in the country. We thank you in advance for your contribution. To donate go to: GIVE TO ANTHROPOLOGY