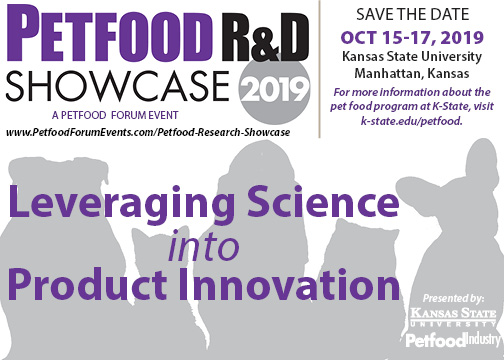 Petfood Research and Development Showcase
October 15-17, 2019, Kansas State University, Manhattan, KS
The 2019 Petfood Research and Development Showcase features unique, interactive learning and networking opportunities for the global pet food and pet treat industry, which includes an exclusive network of industry suppliers, co-packers and service providers. Attendees of the Petfood R&D Showcase includes professionals working in nutrition, ingredient and processing technologies, packaging, food science, R&D, product development, food safety, QA/QC, purchasing, import/export and regulatory compliance.
The 2019 edition, features a new and exclusive theme, "Leveraging Science into Product Innovation."
2019 Petfood R&D Showcase includes:
Three days of learning, networking and activities, focusing on the science and technology behind product innovation.
Interactive labs exploring the transfer of scientific knowledge into the next generation of products and product solutions
New and unique presentations shared by leading subject-matter experts featuring the latest cutting-edge research
Numerous networking opportunities, including two evening receptions and an optional dine-around event at local Manhattan restaurants to engage with subject-matter experts and share ideas with peers.
The theme for the 2019 Petfood R&D Showcase was carefully selected based on the current and future pet food trends and what is most relevant in the industry. This is a high-value opportunity for a campus experience, with technical exchange, and up-close experiences exploring pet food production and a deeper understanding of how treats, toppers and inclusions fit into its future.
Petfood R&D Showcase is a Petfood Forum event and is brought to you by a joint academic-industry partnership between Watt Global Media (Petfood Industry Magazine and Petfood Forum) and the Pet Food Program at Kansas State University.
For questions, please contact Stephanie Pierce at smpierce@ksu.edu.
Presentations from 2019 Petfood R&D Showcase

Behaviors as biomarkers for animal health, welfare
Lindsey Hulbert, Ph.D., assistant professor, animal behavior, Kansas State University
Resistant starch and factors that influence starch digestibility (coming soon!)
Yong-Cheng Shi, Ph.D., professor, Department of Grain Science and Industry, Kansas State University
How pathogens contaminate pet food
Janak Dhakal Ph.D., post-doctoral fellow in the Department of Grain Science and Industry, Kansas State University
How marketing, science and consumer preference drive premiumization in pet food (request here)
Natasha Davis, strategic client partner, Nielsen
Mites in semi-moist pet foods: Exploring strategies to prevent infestation
Tom Phillips, Ph.D., professor of entomology, Kansas State University
Showcase kick-off presentation
Greg Aldrich, Ph.D.