Something to Chew On
This summer, 24 recipients from the 2022 Mandela Washington Fellowship for Young African Leaders program joined K-State faculty in learning about leadership in civic engagement.
In this episode, we are pleased to welcome one of those participants, Saykwayee Harmony Henry from the Republic of Liberia. Saykwayee is a mother, public speaker, entrepreneur, advocate for the rights of women and children and is the executive director at Kids Development Initiative.
Children in Liberia go to school hungry while companies from other countries use Liberian land to grow and export crops around the world. The heart of Saykwayee's work focuses on agriculture development and her country's need to produce food for themselves through practical education and prioritizing healthy food production as a lifestyle and profession from a very young age.
About the podcast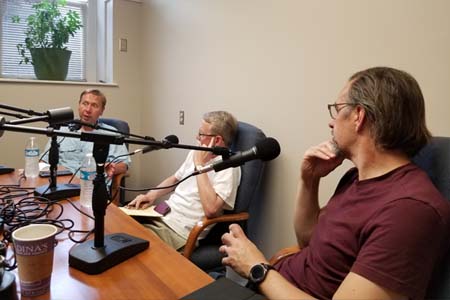 Our lives are frequently and significantly affected by food. Because we must eat to survive, many human cultures have developed with food at their very core. Through prosperous times and depression what we eat has influenced art, music, science, relationships, and more. In this fast-paced world, we often don't take the time to consider how food gets to our plates, the importance of what and how that food is produced and the aesthetics of food requirements and food enjoyment. Often, seemingly obscure or unrelated aspects of life circle their way back to food. The goal of this podcast is to explore the complexity and nuance of the global food system, celebrate the progress we have made, and debate the best ways for humans to proceed forward into the future. Join our hosts Maureen Olewnik, Jon Faubion, Colene Lind, James Stack and Scott Tanona as they informally discuss these points with various contributors from Kansas State University and abroad.