Game Day Recycling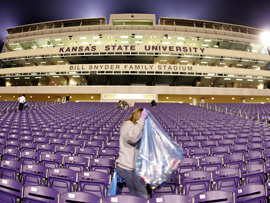 There's nothing better than K-State Football and Recycling!
2012 was the 5th year football fans and tailgaters were asked to recycle.
17,061 lbs of aluminum cans, plastic bottles, glass and cardboard were collected during home football games in 2012.
Many thanks to all the student groups who helped, including Students for Environmental Action and members of various fraternities and sororities.
Students volunteered hundreds of hours passing out and collecting recycling bags during tailgating, canvassing Bill Snyder Stadium after the game and picking up glass and plastic bottles, and later on sorting cans and bottles at the Recycling Center each Sunday following a game.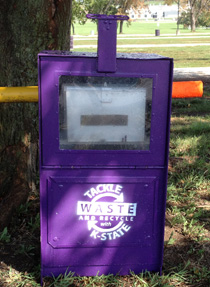 Get with the Program and Recycle during Home Football Games!
Look for purple recycling bags: you can get them from the volunteers or from the purple bins located in various locations on the east side of Bill Snyder stadium. Inside the stadium, put your recyclables in the numerous, large, bottle-shaped containers provided by Pepsi.
Want to help more?
We can do better in 2013! Planning is underway to make the next Game Day Recycling even more successful. We can always use more volunteers to work during football games and to sort recylables after the games. Contact Students for Environmental Action (SEA) or the K-State Recycling Committee for more details.