Ryan Ringer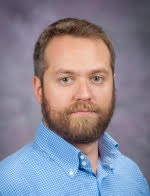 Advisor: Dr. Lester Loschky
Contact Information
Office: Bluemont Hall 5107
Email: rvringer@k-state.edu
I am interested in visual perception and cognition as it relates to our understanding of the real-world environment, with an emphasis on the dynamics of attention in space and time. I am also interested in understanding how the unique contributions of central and peripheral vision allow us to efficiently scan our environment and extract useful information from it. These two interests have come together in a collaborative research effort, funded by the Office of Naval Research, to develop a measure of visual attention across the visual field that is (a) not confounded by eccentricity-dependent low-level perceptual attributes (e.g., acuity, contrast sensitivity), and (b) can be used in driving or flight simulators. I am currently using this novel method to measure the spatiotemporal dynamics of attention during event perception to investigate the relationship between perception, attention, and memory. Although the majority of my experiment programming has been in Experiment Builder (SR-Research), I am currently advancing my programming knowledge in MatLab and Python.
In addition to a wide-range of research interests, I also strongly emphasize the importance of rigorous quantitative analysis. Thus, I employ a diverse collection of quantitative methods, including general, generalized linear and non-linear mixed modeling as well as other descriptive techniques, like multidimensional scaling and bivariate contour ellipses. I am proficient with SPSS, JMP, however R is my primary language for data analysis. In addition to experimental design and philosophy of science, I have made statistical literacy a primary learning objective for my undergraduate research assistants.
RECENT PUBLICATIONS
Ringer, R.V., Throneburg, Z., Johnson, A.P., Kramer, A.F., & Loschky, L.C. (2016). Impairing the Useful Field of View in natural scenes: Tunnel vision versus general interference. Journal of Vision, 16(2):7, 1-25. doi: 10.1167/16.2.7.

Gaspar, J.G., Ward, N., Neider, M.B., Crowell, J., Carbonari, R., Kaczmarski, H., Ringer, R.V., Johnson, A.P., Kramer, A.F., & Loschky, L.C. (2016). Measuring the useful field of view during simulated driving with gaze-contingent displays. Journal of Human Factors and Ergonomics Society, 58(4), 630-641.

Loschky, L.C., Ringer, R.V., Ellis, K., & Hansen, B.C. (2015). Comparing rapid scene categorization of aerial and terrestrial views: A new perspective on scene gist. Journal of Vision.

Larson, A.M., Freeman, T.E., Ringer, R.V., & Loschky, L.C. (2014). The spatiotemporal dynamics of scene gist recognition. Journal of Experimental Psychology: Human Perception and Performance, 40(2), pp. 471-487.

Loschky, L.C., Ringer, R.V., Johnson, A.P., Larson, A.M., Neider, M., & Kramer, A.F. (2014). Blur Detection is unaffected by cognitive load. Visual Cognition, 22(3-4), pp. 522-547.

Ringer, R.V., Johnson, A.P., Gaspar, J.G., Neider, M.B., Crowell, J., Kramer, A.F., Loschky, L.C. (2014, March). Creating a new dynamic measure of the useful field of view using gaze-contingent displays. Proceedings of the Symposium on Eye Tracking Research and Applications, pp. 59-66.