Completed Construction Projects
Kansas State University's rich tradition of land-grant education comes with buildings and facilities that have been around since 1863. As the university seeks to be Top 50 public research university by 2025, the campuses are undergoing renovations and additions to enhance the buildings' capabilities.
Thanks to the generous gifts from donors and monetary commitment from students, Kansas State University has already improved some academic and athletic facilities.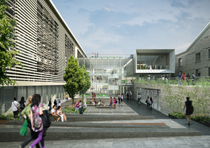 Seaton Complex, which contains the College of Architecture, Planning and Design, received a revitalization to meet the needs of the growing class sizes. The complex features new studios, an outdoor amphitheater and is more energy efficiency.

The 50-year-old K-State Student Union received a renovation, all thanks to students who approved a $25 million project that will benefit future K-Staters. The renovation gives the Union more space and a better overall flow. Renovation construction began September 8, 2015 and concluded fall 2017.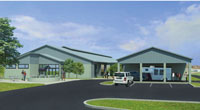 The Equine Performance Testing Facility, a new addition to the Veterinary Medicine Complex, provides a soft-footing riding arena, an asphalt footing area and a 140-foot-long runway for lameness examinations; four holding stalls; a farrier services area; a radiographic imaging area; and a conference room for client services, student education and outreach activities. Construction of the $2.8 million facility, funded by Veterinary Health Center revenue, was completed in spring 2017.
The Chilled Water Plant Expansion, a $56 million project of the chilled water system, is in line with the K-State 2025 strategic plan to build an efficient, reliable and cost-effective central utility plant that provides the capacity for campus expansion. The new chiller plant building is large enough with four 2,500 ton chiller units to provide cooling for future expansion.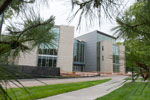 The College of Business Administration's new home, a 140,000-square-foot building that opened in fall 2016, has more space and special features like financial trading rooms, a stock ticker and areas for professional development.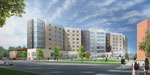 The university's newest residence hall, Wefald Hall and Kramer Dining Center houses more than 540 students in 129,000 square feet of living space on its eight floors and is part of the Kramer Complex connected by enclosed walkways. The dining center has 60,000 square feet of kitchen, preparation space and dining rooms. It serves 1,850 students.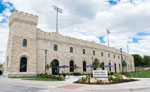 As part of Memorial Stadium's two-part renovation, the east side houses the brand new Berney Family Welcome Center. The K-State Welcome Center serves the entire K-State family as the front door to new opportunities. This unique facility is one of the first in the country to provide a central location for students and families to connect with new student services, admissions, financial aid, housing and dining services, and career and employment services.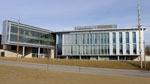 Engineering Hall, completed in January 2016 as part of the College of Engineering complex, has approximately 108,000 square feet of instructional, research and office space in support of interdisciplinary learning and collaboration in the college. It houses the computing and information sciences, and electrical and computer engineering.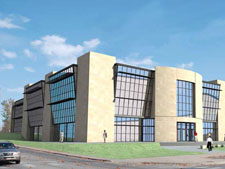 Durland Hall, also part of the College of Engineering complex, got a $40 million wing added to the existing building. The new wing contains state-of-the-art classrooms and specialized laboratories.
As part of the university's update to Bill Snyder Family Stadium, construction on the Vanier Football Complex was completed in August 2015. The $69 million complex grew from a two-story building to a four-story complex that doubles the amount of space for student-athletes and coaches. The expansion includes an academic learning center; strength, conditioning, training and recovery area; locker rooms; a team theater and meeting rooms; an office complex for coaches; and improved north-end seating and fan amenities.
The West Stadium Center at Bill Snyder Family Stadium, where the Wildcats now play football, has a new look. The addition includes new concessions, a fan store and a hall of honor, among other things. The West Stadium Center opened with the 2013 football season.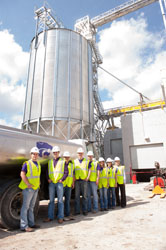 The O.H. Kruse Feed Technology Innovation Center is a world-class new feed mill that will broaden educational opportunities. The feed mill will address the urgent needs of the livestock feed industry. It officially opened in October 2013.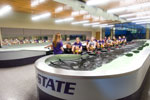 The Intercollegiate Rowing Center is a new training facility for the Wildcat rowing program that holds two 2,800-gallon vessels for rowers to practice technique.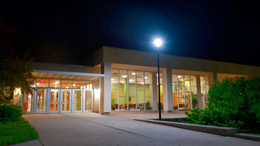 Justin Hall, home to the College of Human Ecology, received a 16,000 square foot addition to accommodate the growing number of students. The new addition includes space for classrooms, research and study areas.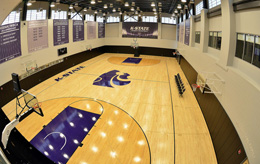 Construction was completed on the new basketball training facility in August 2012. As the central headquarters for the Kansas State men's and women's basketball teams, this facility includes practice courts, offices, a weight room and a film room.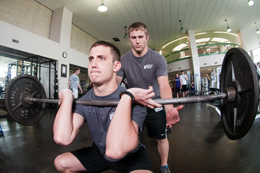 The Chester E. Peters Recreation Complex received a $23 million renovation. The new rec facilities now include more workout space, a 40-foot indoor rock climbing wall and relaxation lounges.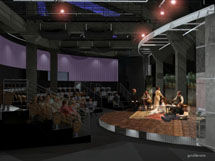 The Purple Masque Theatre, originally on the east side of Memorial Stadium, was relocated to the west side to make room for the university's new Welcome Center, which is still under construction. The new theatre is part of the School of Music, Theatre, and Dance and is used for drama therapy, workshops, playwrights' stage, acting recitals, scene rehearsals, Ebony Theatre performances and final scenes for the Principles of Directing course. It was completed in early 2015.