Building our future
Kansas State University is at the threshold of a bold new vision: Becoming a Top 50 public research university by 2025. To achieve this, the university is building for the future. By improving and expanding the campuses, students and faculty will be equipped to accomplish these goals.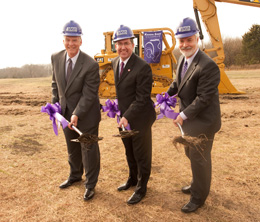 K-State 2025 emphasizes the academic infrastructure needed to establish a Top 50 public research university. Kansas State University is constructing and renovating academic buildings, sports facilities and student housing. These renovations will provide the latest research capabilities and eco-friendly buildings, all while maintaining the university's welcoming environment and honoring its 150-year heritage.
As a member of this elite group of Top 50 universities, K-State will be a powerful economic driver for growth and development by generating new knowledge and producing graduates who will impact Kansas, the nation and the world. Philanthropic support from loyal alumni, friends, corporate partners and foundations who share a passion to see K-State advance will be crucial to achieving this transformational goal.