Office of International Programs News
International Collaboration Incentive grant eligibility and application Information
The Office of International Programs announces eligibility and application deadline information for the International Collaboration Incentive grant program. This incentive grant recognizes K-State faculty and instructors who have collaborated with an international partner for the first time during the 2018 calendar year.
An incentive of $1,000 will be granted to K-State faculty and instructors fitting the criteria.
Eligibility for the grant is open to K-State tenured, tenure-track faculty or instructors with a regular contract who had their first career publication in peer review journals, book chapters, books or creative work — movies, video, photography, plays, among others forms scholarly activities — in collaboration with one or more faculty member(s) or researcher(s) with a permanent position in a foreign institution as a primary institutional affiliation.
"International collaboration in the form of co-publication or joint scholarly activity is a critical component of internationalization as outlined in K-State 2025," said Marcellus Caldas, assistant provost for international faculty collaboration and educational programs. "The Office of International Programs wants to recognize the achievements of our faculty and instructors and we are excited by this opportunity to support those K-State faculty and instructors who are contributing to our international profile."
The incentive was designed by Office of International Programs and the College International Advisory Committee.
Eligibility: For specific criteria regarding recognition eligibility: faculty status is as defined in the University Handbook. The nomination is for a faculty that published (or developed a creative work) for the first time in international collaboration, and not for a publication (or creative work) developed for the first time with a new international collaborator. If the publication includes many K-State authors, the recognition goes to the first K-State author that is publishing for the first time in an international collaboration.
The contribution had to be published (or developed) between Jan. 1 and Dec. 31, 2018.
An author's contribution while affiliated to another institution does not fit these recognition criteria. The nominee must be an active faculty member at the time of the recognition ceremony to receive this recognition
Proposal guidelines: The relevant department head or unit director nominates the candidate by submitting a letter certifying the accomplishment. Only one submission per person allowed.
Nominations should be submitted to  oip@k-state.edu  by 5 p.m. Tuesday, Oct. 1.
This incentive recognition will be presented at the International Education Awards Ceremony on Thursday, Nov. 21, during the annual International Education Week. For any questions including submission or eligibility criteria and incentive information, contact Caldas at 785-532-1244  or caldasma@k-state.edu.
Office of International Programs hoists the J. William Fulbright Foreign Scholarship Board Board Meeting July 2019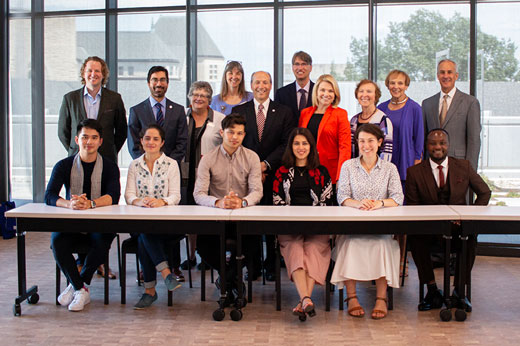 K-State First Lady Mary Jo Myers and the Wildcat community welcomed members of the J. William Fulbright Foreign Scholarship Board, appointed by the U.S. president, to campus for its quarterly board meeting in July.
While on campus, the board met with approximately 40 Fulbright participants and alumni students from more than 30 countries. Jeff Bleich, Fulbright Board chair ambassador, addressed the students and teachers and encouraged them to do three things: "bring the best version of yourselves on your exchange, look for the best in others in everything you do, and pay it forward to future generations of Fulbrighters."
Grant Chapman, associate provost in the Office of International Programs and Fulbright participant, noted that since 2013, the K-State community has demonstrated a strong commitment to international exchange, including producing 10 participants to the U.S. student program, hosting more than 40 foreign student participants, and hosting 15 U.S. and foreign scholars.
This summer, K-State is hosting two Fulbright cohorts. One group of Fulbright students is spending three weeks at K-State to hone their English skills and become oriented to life at American universities. Following their orientation, they will head to the start of the fall semester at universities across the country to begin their master's and doctoral programs at other U.S. institutions.
K-State also is hosting 40 public school English teachers from Brazil who are participating in a six-week program to improve their English skills and teaching methodologies.
During the meeting with the Fulbright Board, K-State staff and faculty served as panelists and presented information about internationalization initiatives at the university. Charles Taber, provost and executive vice president, begin the meeting with a warm welcome to members of the Fulbright Board and provided an overview of university priorities. Next, the board heard a presentation on K-State Australia Initiatives, or Oz to Oz, moderated by John Leslie, university distinguished professor of plant pathology and Fulbright alumnus, which is a bilateral exchange program for faculty from K-State and Australian institutions.
The board also heard the powerful personal narratives of a panel of visiting Fulbright students. After the meeting, staff from the Office of International Programs and the Fulbright Board traveled to Lawrence to join a group of 230 outgoing U.S. Fulbright students participating in an orientation at the University of Kansas ahead of their overseas exchanges throughout Europe.
Both university visits enabled the distinguished members of the Fulbright Scholarship Board to see Kansas' two premier institutions of higher learning. For more information about the international exchanges and the Fulbright Program, visit exchanges.state.gov.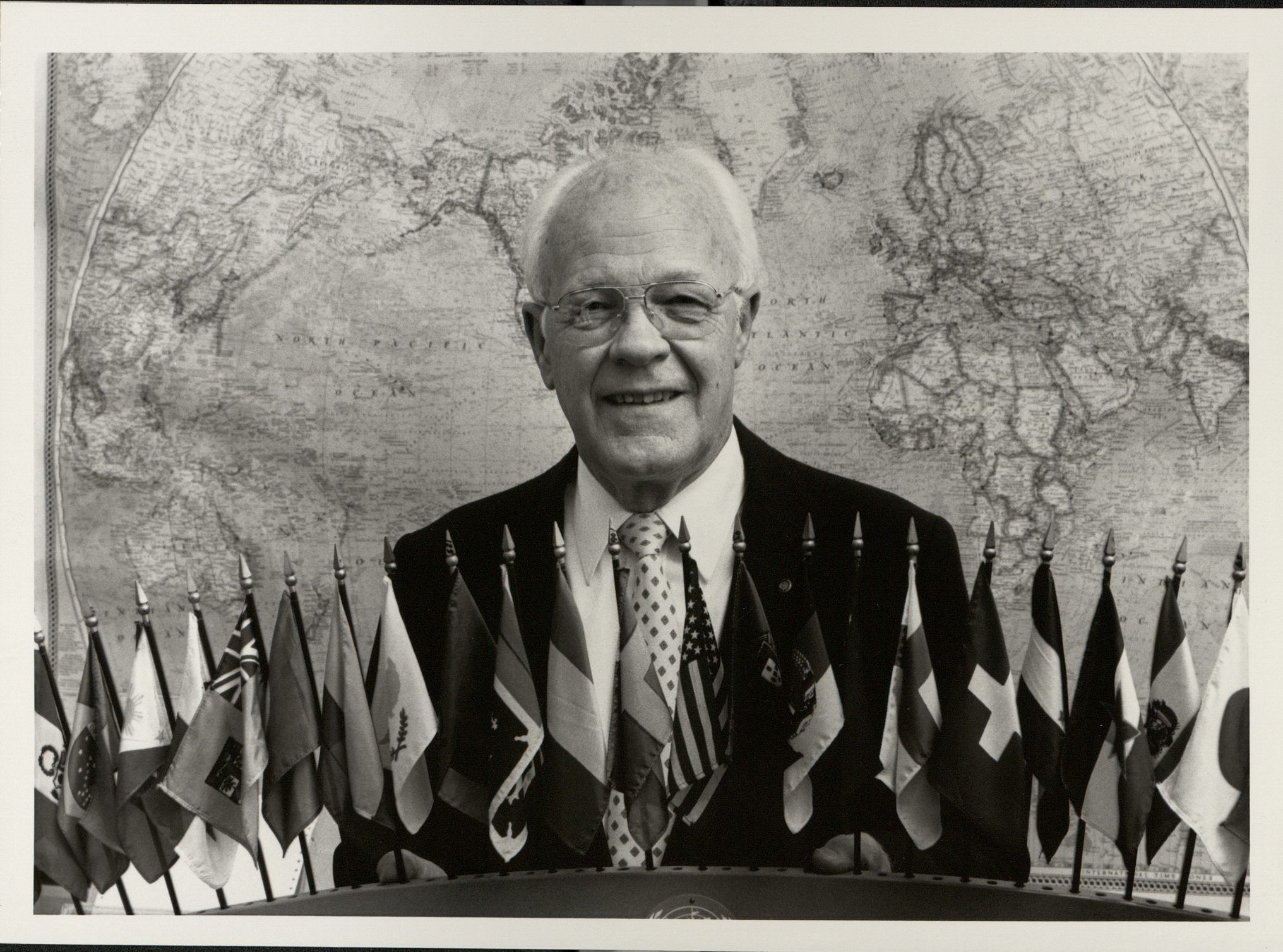 The Kansas State community mourns the recent passing of Vernon C. Larson.
Said Provost April Mason, "Vernon Larson was an international visionary. He built K-State's International Agriculture Programs and established K-State's Office of International Programs.
Dr. Larson was a great asset to the university and the Vernon Larson Lecture Series is the longest running lecture series at the university.
For Vernon Larson's complete obituary and information:
http://www.ymlfuneralhome.com/obituary/5640
Memorial contributions may be made to the Kansas State University Foundation for the Vernon Larson International Luncheon Series.