International Education Week is a joint initiative of the U.S. Department of State and U.S. Department of Education. It is an opportunity to celebrate the benefits of international education and exchange worldwide. This year we welcomed our largest enrollment of 2,247 international students to our campus.
Vernon Larson Lectures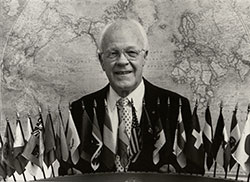 The Vernon Larson International Luncheon Series was started in 1979 by Larson, then director of international agriculture programs at K-State. The series includes six lectures each school year and offers the K-State community a chance to hear presentations from individuals who have recently participated in extensive overseas activity or who are involved in major international activities. The events are FREE and no reservations are required.
Eliza Taitelieva and Emil Musabaev will present on Kyrgyzstan, Friday May 6th, 4-5pm. Location: International Student Center.
Kyrgyzstan is a post-Soviet republic in Central Asia (sharing borders with China, Kazakhstan, Tajikistan and Uzbekistan). The presentation will cover general information about Kyrgyzstan, with time for students and audience members to ask questions.
This event is open to everyone!
All Events