What is IDEall?
IDEall stands for Inclusion, Diversity and Equity for All. This committee, formed in 2020, is open to all faculty and staff of the Kansas State University School of Music, Theatre and Dance.
Check out our anti-racism resources, with articles, recordings, playlists and artist databases in all school disciplines.
Events
Occupying Indigenous Land: Kansa(s) Perspectives on Land Acknowledgements, #Landback and K-State's History
Join us for a conversation that privileges Indigenous perspectives on land acknowledgments and the #landback movement with James Pepper Henry, Vice-Chair of the Kaw Nation, c Huffman, independent scholar and Kaw Nation citizen, and Chester Hubbard, Vice President of the Native American Student Body. This 50-minute conversation and q & a is facilitated by David Mackay (Associate Director of Theatre) and features a discussion on Kansas State University's Land Acknowledgement.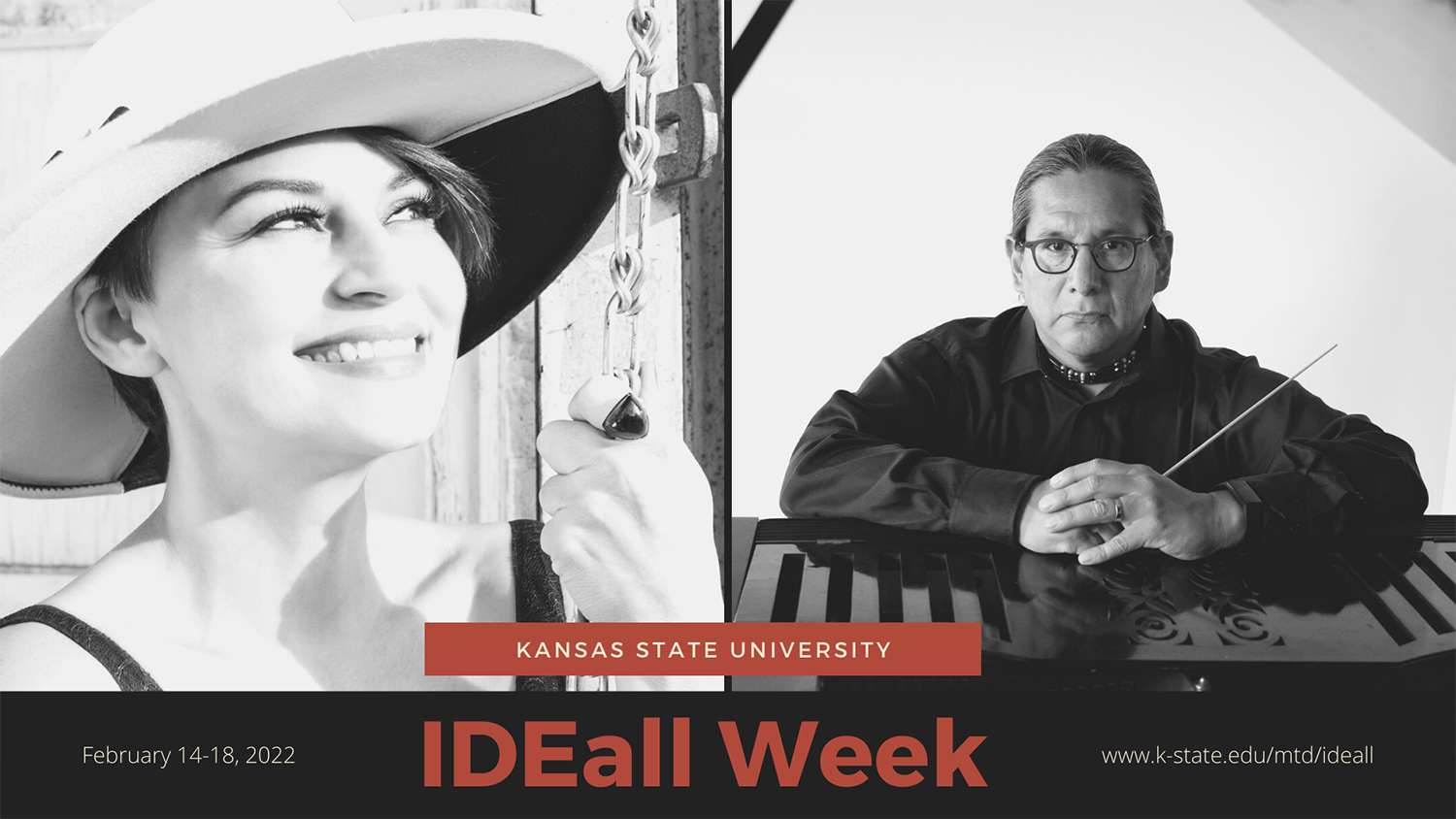 Welcome to IDEall Week 2022. This week we celebrate Indigenous artists and their work. Please join us on our YouTube channel for interviews and performances spotlighting some of these amazing artists.
As the first land-grant institution established under the 1862 Morrill Act, we acknowledge that the state of Kansas is historically home to many Native nations, including the Kaw, Osage, and Pawnee, among others. Furthermore, Kansas is the current home to four federally recognized Native nations: The Prairie Band Potawatomie, the Kickapoo Tribe of Kansas, the Iowa Tribe of Kansas and Nebraska, and Sac and Fox Nation of Missouri in Kansas and Nebraska.
Many Native nations utilized the western plains of Kansas as their hunting grounds, and others – such as the Delaware – were moved through this region during Indian removal efforts to make way for White settlers. It's important to acknowledge this, since the land that serves as the foundation for this institution was, and still is, stolen land.
We remember these truths because K-State's status as a land-grant institution is a story that exists within ongoing settler-colonialism, and rests on the dispossession of Indigenous peoples and nations from their lands. These truths are often invisible to many. The recognition that K-State's history begins and continues through Indigenous contexts is essential.
Kansas State University Indigenous Faculty Staff Alliance Land Acknowledgement
The IDEall Committee
Membership is by self-selection, with an open call for members of the School faculty and staff at the beginning of each academic year. The committee has an open door policy with all members welcome to contribute for as long as they are able. Leadership rotates among members, with each meeting facilitated by a different committee member. Ad hoc subcommittees or task forces may be created based on perceived needs among the MTD community. Representation from all three areas is encouraged. This committee will also provide consistent representation to the College of Arts and Sciences Diversity Committee.
The goals of the IDEall committee are:
Improve the MTD climate.
Advance the recruitment and retention of underrepresented students.
Advance the recruitment and retention of underrepresented faculty and staff.
Promote education opportunities centered on social equity.
Communicate information pertinent to diversity opportunities, benefits and needs.
Current subcommittees are:
Recruitment & retention of IDEall faculty, staff and students (David Mackay, chair)

Collect data on current MTD faculty, staff and student demographics.
Look at historical data on search candidate pools, finalists, and hires
Examine how to attract diverse candidate pools for faculty, staff and students.
Take direction from progress and information already available through the College of Arts and Sciences DEI subcommittee as well as other departments with demonstrated success in this area.

Student-centric community (Cheryl Richt, chair and mentor)

Encouraging students to take ownership in helping to shape a more inclusive and supportive environment for the School.
Creating a safe environment for students to have open and honest discussions.
Providing mentorship opportunities for students.

IDEall Programing (Ruth Gurgel and Julie Yu, co-chairs)

Endorse and promote MTD and University events that support the goals of the IDEall committee.Collaboration (for resources as well as the greater good)

within MTD
with other Kansas State University departments
with other universities (such as through encouraging applications for Big XII grants)

Goals for scheduling events

The IDEall committee will submit at least one proposal for A&S Diversity Lecture Series each semester.
The committee will sponsor a convocation event each semester.
Students, faculty and staff are encouraged to bring comments, proposals for opportunities and concerns about IDEall issues to committee members.