Tap to Togetherness
Building Family Relations & Enhancing Child Development Through Tap Dance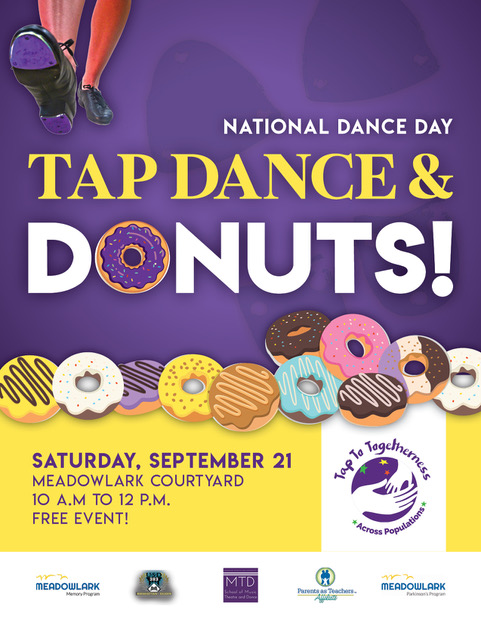 K-State researchers from the School of Music, Theatre and Dance and the College Health and Human Services are enhancing well-being with Tap To Togetherness Across Populations is a program that fosters family, child, and Senior Population interactions through movement. Participants attend tap dance sessions that bring populations together from children and families of all ages, the Home school networks, and Senior Populations. Specifically Parkinson's and Memory Programs participants engage. Sessions are offered through a local Parents as Teachers program, local school districts, homeschools, and Meadowlark Hills.
Tap to Togetherness Team

K-State researchers from the School of Music, Theatre and Dance and the College of Human Ecology are enhancing well-being with Tap To Togetherness, a program that fosters family interactions and child development through movement. Participants attend tap dance sessions twice a month for children ages 12 months to pre-Kindergarten. Families are permitted to bring older children.
Sessions are offered through a local Parents as Teachers program and K-State Research and Extension. Both of these organizations specialize in designing and disseminating better health and nutrition practices and are providing a network crucial to delivering and sustaining the program and maintaining the health of families and the development of children.

Julie L. Pentz — Tap To Togetherness Across Populations Program Founder and Director
Julie is the lead teacher for Tap To Togetherness Across Populations.
Julie's contributions to the dance field have traveled in the international dance community and her credits include guest teaching and performance appearances at the Theatro Libero in Rome, Italy, Taiwan, Chinese Cultural University, National Taiwan University of the Arts, Tsoying Performing Arts, Koahsiung Performing Arts, the Interdansa in Banyoles-Girona, Spain and the National Theatre of Ghana, the Dagra Music Center in Ghana Africa and several locations in Kuwait City, Kuwait. Julie has been teaching at Kansas State University for 17 years. Julie is a full professor of dance in the School of Music, Theatre, and Dance, teaching jazz and tap dance, the K-State Tap Dance Ensemble, dance appreciation, teaching methods, for the K-State First program, and West African dance and music ensemble. She is active in the National Dance Educators Organization serving on the advisory board directing students from 2017 – 2020 and now serves on the Executive Committee as the organizations Recording Secretary. In 2019 Julie accepted a position as a Global Goodwill Ambassador and Human Peace Ambassador, representing the United States of America. Julie serves as a national judge for dance competitions and is a trained HealthRhythms facilitator. Prior to Julie's return to graduate study she performed with The National Tap Ensemble out of Washington, DC and worked with master tap teachers that include Gregory Hines, Savion Glover, and Brenda Buffalino.
Julie's current research is examining and enhancing family relationships, measuring physical movement, and looking at Parent perceptions/enjoyment/and parent-child connectedness and how they relate to physical activity. She uses her program Tap To Togetherness Across Populations to foster this research. Tap To Togetherness Across Populations holds close partnerships with Parents as Teachers, K-12, senior populations, and the homeschool networks. The Tap To Togetherness program has been selected as one of 15 community engagement partnerships for Kansas State University's Carnegie Foundation Community engagement Reclassification. The program has two published children's' books Tap Tap Tap Your Toe and Tap Tap Tap Like a Rhinoceros. Pentz has multiple articles published with the Journal of Dance Education, Dance Education In Practice, Arts Education Policy Review, The Ambassador, UCED, Childhood Education, Journal of Extension, E-Source for College Transitions, Association of College and University Education, and the Ambassador. In February of 2021 Pentz released her text book Dance Appreciation, published with Human Kinetics Publishing, out of Chicago, IL.Julie may be contacted at jpentz@k-state.edu.
Janice Schroeder — Parents as Teachers Liaison
An emeritus in May of 2019, served as a Parent Educator with Parents as Teachers in Manhattan KS for 27 years. Janice received her Bachelor's degree from Kansas State University in 1981. She is trained in the Parents as Teachers Foundational Birth-three and 3-Kindergarten entry curriculums. I also have training as a Kansas Home Visitation Coach. Other trainings include Mental Health First Aid, Baby Behaviors, ASQ-3 and ASQ-SE implementation. As an educator, she enjoys getting to know and work with families of diverse backgrounds and finds it heart-warming to see parents experience the growth and capabilities of their children. To see a parent beam with pride in their child's accomplishments is such a reward. Her ultimate goal as a Parent Educator is to provide knowledge and to support parents on how they can help their child towards a successful future, helping to identify the strengths or delays in their child. She strives to help parents know that they are their child's first and most important teacher! Janice is now with the Parents as Teachers program in Abilene Kansas.
What is Parents as Teachers?
Parents as Teachers is an award-winning, early-childhood program that supports families and teaches parents how their children grow and learn. The USD 383 Manhattan- Ogden Parents as Teachers program is free and available to families who live in the school district. Parents as Teachers uses a research-based curriculum during home visits to pregnant mothers and families with children up to 3 years. A reduced program is available to qualifying children ages 3 to kindergarten entry.
Parents as Teachers provides families with:
Monthly home visits with a certified parent educator.
Developmental, social-emotional, hearing, vision and health screenings.
Group Connections with other parents to share experiences and discussions.
Playgroup four days a week, plus one evening and one Saturday a month in Manhattan.
A weekly playgroup in Ogden.
A Toy and Book Lending Library, where families can check out children's books, age-appropriate toys and parenting information.
Special events and connections to community activities and resources.
Monthly newsletters with notifications of upcoming events and relevant parenting topics.
Our new program, Tap To Togetherness.
Tap dance sessions
Each 25-minute session is full of nonstop movement. Families work together to learn basic tap dance steps such as the Irish, Buffalo, Maxi Ford and Jump Shuffles. The sessions explore counting, rhythm making, and call and respond activities.
The School of Music, Theatre, and Dance
The School of Music, Theatre, and Dance is home to approximately 500 majors and minors. Additionally, more than 4,000 nonmajors representing every department and college at the university participate in K-State performing arts. The dance program is known nationally and internationally, teaching and performing across the country and in Taiwan, Spain and Ghana.
Undergraduate research experience
The Tap To Togetherness program offers an undergraduate research experience to participating K-State students. Students engage in the Manhattan, Kansas, community while working with young families, participating in research collection, developing grant-writing skills and contributing to published research.
About the K-State Tap Dance Ensemble
Julie L. Pentz, Associate Professor and Director of Dance and The K-State Tap Dance Ensemble is a group of K-State students who share the love of tap dance on the K-State campus, local Manhattan community, regionally, and nationally. This ensemble has been established for 7 years. This ensemble has reached thousands of elementary and middle school students regionally and has performed at dozens of community events that include, but are not limited to, Spooktacular at the Sunset Zoo, Purple Power Play on Poyntz, and Family Fun Nights at local elementary schools. Visit K-State Tap Dance Ensemble to learn more.
For information about this program, contact Julie L. Pentz at jpentz@ksu.edu.