Purple Masque Theatre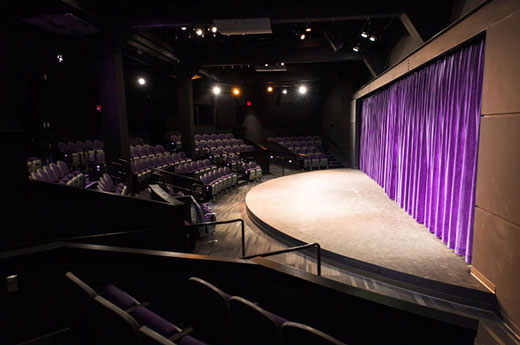 Nestled within the iconic limestone exterior of Memorial Stadium is the new home of the Purple Masque Theatre. After making a move from the east side of the stadium to the west side, the Purple Masque brings its historic purpose dating back to 1974 into a state of the art new facility. The Theatre provides an expanded space for experimental theatre and student learning (through showcases, workshops, stage readings, Ebony Theatre productions, and more).
Type
Thrust
Seating Capacity
130 patrons
Dimensions
Stage 46'-3" wide x 14'-11" deep
Support Areas/Features
Catwalk system, new AV system (2016), electrical pathways under deck, bi-parting main curtain.
Use
Space is used primarily for second stage productions, but occasionally used for Mainstage. Space is also used for directing scenes and various lecture courses.