K-State ROTC Activities
Ranger Challenge
Ranger Challenge is team challenge in which Cadets go head to head with other ROTC programs from around the country in a competition that is "15 Hours of Pain." It tests Cadet's fitness, teamwork, and military skills. The competition consists of activities such as Rifle Marksmanship, crossing a one rope bridge, and Army Physical Fitness, amongst many more events. Cadets practice and train for this event in order to represent K-State ROTC.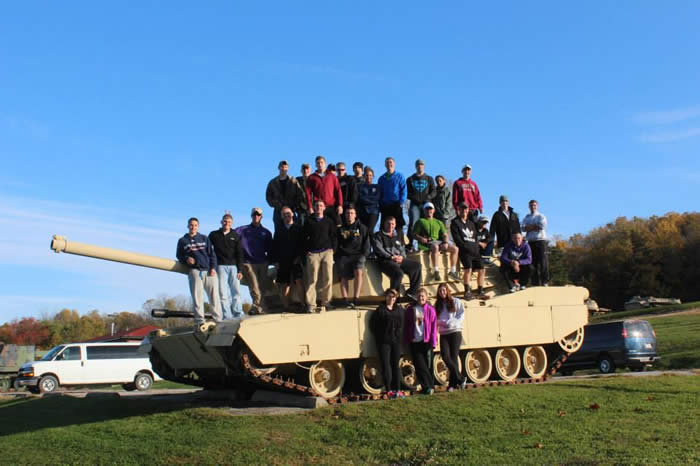 Ranger Buddy Competition
Ranger Buddy Team is a competition event which is conducted each year during the spring semester. The buddy teams compete at Kansas University against numerous other Universities. Buddy Teams consist of two individuals of which and can compete in three different categories. They are the male/male team, female/female team, or male/female team.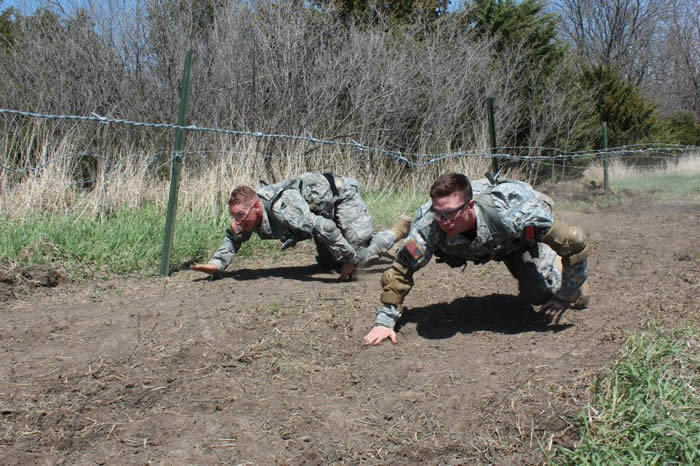 Color Guard
Members of the Kansas State Color Guard have opportunities such as performing Color Guard at Kansas City Chiefs games, and posting the Colors at the Annual SF Ball.
Recondo
Recondo is a club that provides extra opportunities to gain hands on experience on a range of military subjects, primarily tactical in nature. Recondo ultimately enhances individual performance with military small unit operations. Information covered includes battle drills, movement techniques, land navigation, patrolling, first aid, and prisoner handling procedures. Recondo also gives cadets additional opportunities to hold leadership positions even as a Freshman or Sophomore.
Pershing Rifles
The National Society of Pershing Rifles is a Drill Company and Honorary Fraternity (non-Greek) committed to the development of successful Officers. The Pershing Rifles also works to establish closer relations with those civilians who support the military.
The Army Ten-Miler
Every fall Kansas State Army ROTC sends teams to the Association of the United States Army (AUSA) Army Ten-Miler, a foot race which starts at the Pentagon, in Washington DC. The patriotic course tours our nation's capital, and is the largest 10 Mile Race in America. Cadets who qualify for the Ten-Miler Team gain a unique leadership development experience and camaraderie as they forge there physical abilities.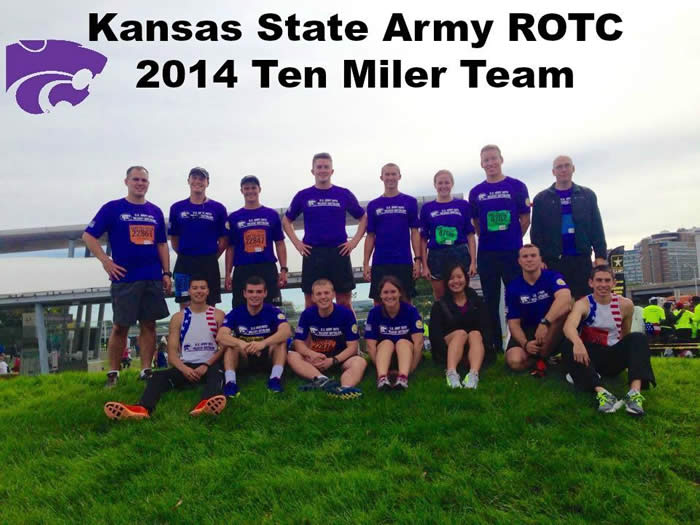 The Bataan Memorial Death March
During the spring semester Kansas State Army ROTC Cadets participate in a challenging march through the high desert terrain of White Sands Missile Range, New Mexico. This competition is conducted in honor of the heroic service members who defended the Philippine Islands during World War II. The distances for this event range from 14.2 to 26.2 miles. Cadets compete on teams or as individuals and are challenged both mentally and physically.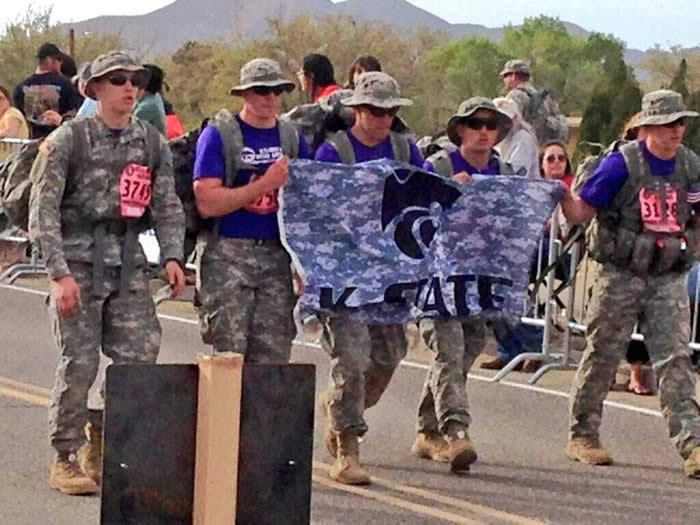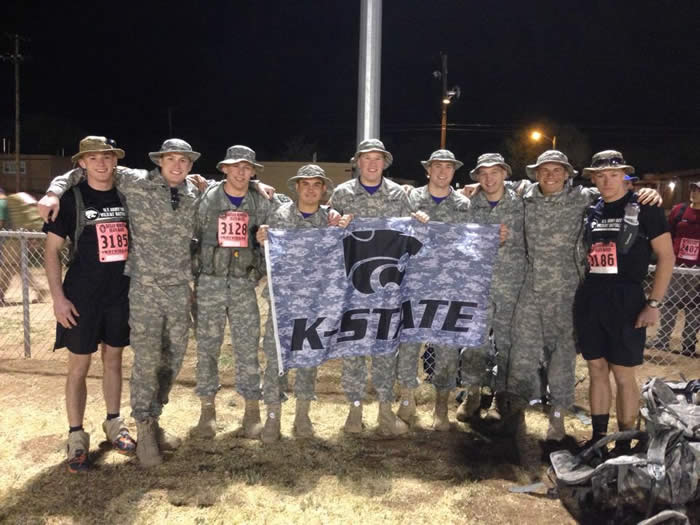 CrossFit Challenge
Kansas State Army ROTC competes in Cross-functional Fitness Challenges throughout the school year. When Cadets are not competing, they avidly train in the state-of-the-art Nancy Allison Perkins Foundation Cross-Functional Fitness Facility known as "The Pit." which is a fully equipped Cross-functional Fitness Gym located inside the ROTC building (Gen. Richard B. Myers Hall).
German Armed Forces Badge for Military Proficiency (GAFBMP) Event
This physical training event is administered under the direction of an actual soldier from the Bundeswehr, which is the armed force of the Federal Republic of Germany. Cadets are assessed on their physical readiness in a vast array of fitness events such as foot marching, shot putting throwing, swimming, and pistol marksmanship, just to name a few. If Cadets meet the challenging event requirements they are authorized to where the GAFBMP, which is one of the few approved foreign awards for wear on their US Army uniform.