Sources: Kirk Schulz, 785-532-6221, kirks@k-state.edu; Jackie Hartman, jlh1980@k-state.edu
Photo available. Contact media@k-state.edu, or phone 785-532-6415
News release prepared by: Cheryl May, 785-532-6415, may@k-state.edu
Friday, April 16, 2010
JACKIE HARTMAN NAMED K-STATE'S DIRECTOR OF COMMUNITY RELATIONS AND ASSISTANT TO THE PRESIDENT
MANHATTAN -- Kansas State University's first director of community relations and assistant to the president brings a lifelong familiarity with K-State, leadership, consulting, entrepreneurial activities and teaching experience; and a background working with faculty, staff and students ... plus a wardrobe containing plenty of purple.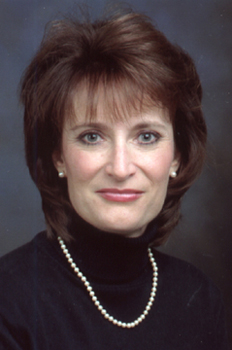 Jackie Hartman, a K-State graduate and former chair of K-State's Alumni Board of Directors, has accepted a post in the Schulz administration and will begin work on campus effective July 1.
"I'm really pleased to have Jackie Hartman return to K-State in this cabinet-level position," said K-State President Kirk Schulz. "Dr. Hartman's in-depth knowledge of K-State, along with her leadership with the K-State Alumni Association and as a faculty athletics representative at Colorado State University provide her with important experience which will be invaluable in this new position."
Most recently Hartman has been an associate professor of management at Colorado State University, where she also served as faculty athletics representative from 2005 to the present.
Hartman will report directly to the president and serves as a member of the president's cabinet. She will lead and coordinate community affairs for K-State, representing the president's office on issues related to the city of Manhattan and Riley County economic development initiatives, Schulz said.

She will also be involved with private fund-raising and major fund-raising initiatives with McCain Auditorium and the Beach Museum of Art. She will coordinate athletic and cultural invitations to events for major donors, legislators and other prominent friends of the university with the K-State Alumni Association, the KSU Foundation and other campus entities. She will serve as a liaison between the president and the KSU Foundation and K-State Alumni Association, as well as the office of the general counsel, the office of affirmative action, McCain Auditorium and the Beach Museum of Art.
Hartman will provide leadership for the prestigious Landon Lecture Series and coordinate special projects, working with the president and provost.
At Colorado State, she has received numerous awards and recognitions, including the Gladys Eddy Award for Dedication to the Undergraduate Experience, "Most Influential Professor" as cited by graduating seniors four years in a row; College of Business Professor of the Year, among others.
She is co-author of six books, 18 journal articles, with five more in process. She has given dozens of presentations to national and regional organizations. She is a member of the Academy of Management, Association for Business Communication and several honoraries.
Hartman began her career at K-State as an instructor in the department of management from 1981-86. She joined Colorado State's management faculty in 1987 as an instructor; served as assistant professor 1990-97; and was promoted to associate professor in 2004. She served as chairperson of the management department from April 2005 to June 2006.
Hartman earned a bachelor's degree in business education and a master's degree in consumer economics from K-State. She earned a Ph.D. in human resource development with an emphasis on organizational communication from Colorado State University.
She is the daughter of Pat and the late Jack Hartman. Jack Hartman, legendary basketball coach, led K-State to three Big Eight titles, two Big Eight Tourneys and nine postseason appearances.