Jackie L. Hartman
Chief of staff and director of community relations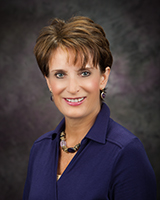 Jackie L. Hartman is Kansas State University's chief of staff and director of community relations. Hartman is a Kansas native and possesses a lifelong familiarity with K-State. Hartman, a K-State graduate and former chair of K-State's Alumni board of directors, reports directly to the president and serves as a member of the cabinet. She leads and coordinates community affairs for K-State, representing the president's office on issues related to the city of Manhattan and regional economic development initiatives.
Hartman also provides leadership for the prestigious Landon Lecture Series and coordinates special projects, working with the president and provost. She is involved with private fundraising and major fundraising initiatives with McCain Auditorium and the Beach Museum of Art.
In addition, she serves as liaison between the president's office and the Kansas State University Foundation and K-State Alumni Association. The office of the general counsel, McCain Auditorium and the Beach Museum of Art also report to Hartman.
Hartman earned bachelor's and master's degrees from K-State. She earned a doctorate in human resource development with an emphasis on organizational communication from Colorado State University. She was an instructor in the department of management at K-State from 1981-1986.
As a faculty member at Colorado State from 1987-2010, Hartman received numerous awards and recognitions, including the Gladys Eddy Award for Dedication to the Undergraduate Experience, "Most Influential Professor" as cited by graduating seniors four years in a row; College of Business Professor of the Year, among others. She also served as the faculty representative to the NCAA while at Colorado State.
Hartman is co-author of six books and 19 journal articles. She has given dozens of presentations to national and regional organizations. She is a member of the Academy of Management, Association for Business Communication, Association of Public and Land-Grant Universities and several honoraries.
She is the daughter of Pat and the late Jack Hartman. Jack Hartman, legendary basketball coach, led K-State to three Big Eight titles, two Big Eight Tourney titles and nine postseason appearances.
Hartman can be reached at 785-532-6221 or jlh1980@k-state.edu.