John Floros
Dean of the College of Agriculture
Director of K-State Research and Extension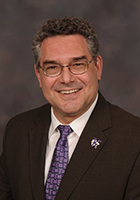 Renowned food scientist and academic leader John Floros became dean of the College of Agriculture and director of K-State Research and Extension in August 2012. Since then, he has led the development of a College of Agriculture strategic plan for Vision 2025, guided the college to record undergraduate and graduate student enrollments, and steered K-State Research and Extension to record extramural funding and research expenditures.
Under his leadership, K-State established the first industry/university cooperative crop-related National Science Foundation center, which focuses on wheat genetic resources. The college also attained three new Feed the Future innovation labs from the U.S. Agency for International Development on wheat genomics, sorghum and millet, and postharvest loss reduction.
His research specialties include the application of chemical engineering science, applied mathematics and industrial statistics to the field of food process engineering and packaging. He has written more than 120 peer-reviewed articles, book chapters and other publications, more than 100 abstracts, and has given more than 200 invited presentations around the world.
Floros' research has been funded by the U.S. Department of Agriculture, NASA, state agencies and private industry. He has been a member of several professional organizations, including the Institute of Food Technologists, the American Society of Agricultural and Biological Engineers and the American Society for Quality Control. He is a fellow of and served as president for the Institute of Food Technologists, the leading professional organization in the food science discipline. Recently, he was recognized by the U.S. Food and Drug Administration for "distinguished service to the people of USA" as a member of the Science Board to the FDA.
Before coming to K-State, Floros served as professor and head of the department of food science at Pennsylvania State University. He also served as a professor at Purdue University and worked as an international industry consultant for more than 30 years.
Floros earned a combined bachelor's/master's degree in food science and technology from the Agricultural University of Athens, Greece, and a doctorate in food science and technology from the University of Georgia.
Floros can be contacted at 785-532-7137 or floros@k-state.edu.