Tribute to Wefald
State, local officials tout K-State president's leadership in several areas
Recognizing Jon Wefald's contributions to K-State, the state of Kansas and the nation, the Kansas Bioscience Authority held a "Tribute to Jon Wefald" Oct. 28 at K-State's International Grains Program Conference Center. Wefald has been an ex-officio member of the authority's board since its inception.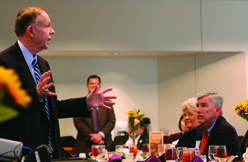 Tom Thornton, president and CEO of the Kansas Bioscience Authority; Sandra Lawrence, chairwoman of the board, Kansas Bioscience Authority; and Lyle Butler, president of the Manhattan Area Chamber of Commerce spotlighted various aspects of Wefald's leadership during his 22 years at K-State.
Butler complimented what Wefald has done for Manhattan and how he has built a close relationship between the city and K-State, and with Fort Riley. He said K-State and Manhattan are in the top three in the nation for outstanding town-gown relationships.
"Mr. President, I thank you for your leadership -- for what you have done for Manhattan, the state of Kansas and the nation.
"At many universities the president has little knowledge of what is going on in the community. That is not true here," he said.
Butler told the audience, "Entrepreneur is a word I use to describe Jon Wefald to people who don't know him. His leadership allows entrepreneurship to go on at all levels of the university. He inspires people and gives them the power to get things done."
Thornton said Wefald's involvement has helped the bioscience authority accomplish great things.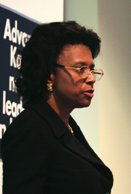 "We have asserted ourselves as a national leader in key bioscience clusters," Thornton said. "Foreign companies and researchers are moving to Kansas. Investors nationally are betting on Kansas companies. The health of the Kansas bioscience economy has never been stronger."
Thornton cited the Eminent Scholars Program, which provides financing, matched by private and institutional funds, to recruit renowned scientists to Kansas academic research institutions. He introduced Juergen Richt, former lead scientist with the U.S. Department of Agriculture's National Animal Disease Center and an adjunct professor at Iowa State University.
"He is now here at Kansas State University, and his research will further enhance our international reputation for animal health and food safety," Thornton said. "It is expected that our first three eminent scholars will account for nearly $35 million in new external research funding in Kansas over the next five years."
Thornton gave a tip of the hat to the Manhattan community for coming together to support efforts to site the National Bio and Agro-Defense Facility at K-State. He said research to be conducted at the NBAF will protect America's food supply and agriculture economy.
"In FY 2008, K-State was selected as one of six finalists under final consideration for the $451 million facility," Thornton said. "We've gotten this far because we have created an extraordinary public/private collaboration and a model for our efforts going forward. We truly have something special to offer to this critical project."
Sandra Lawrence, chairwoman of the Kansas Bioscience Authority complimented Wefald's visionary testimony in October 1999 before the U.S. Senate's Emerging Threats Subcommittee.
"Long before 9/11 catapulted terrorism into the forefront of the national consciousness, Jon was there warning of the threat of terrorism to America's food supply and agriculture economy," Lawrence said.
"He went on to ensure that K-State solidified and advanced its national leadership on this critical issue, making food safety and animal health top priorities -- paving the way for Kansas to become one of six finalists in the nation for the National Bio and Agro-Defense Facility."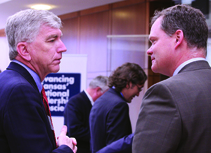 "Jon has ably served as an ex-officio board member of the Kansas Bioscience Authority for four years. In this role, Jon has demonstrated the same sort of vigor and vision that he has shown in his leadership of Kansas State University as he helped end the trend of declining student enrollment at K-State; dramatically increased research and graduate programs; stimulated significant growth in private donations to the university; and oversaw dramatic infrastructure improvements on campus.
"Perhaps most extraordinary, as Jon is fond of saying, is the growth in the number of Rhodes, Marshall, Truman, Goldwater, and Udall scholars, which has made K-State the No. 1 public university for such scholars since 1986.
"Indeed, the KBA has benefited from Jon's vigor and vision as well, particularly taking hold of his passion for capitalizing on Kansas' tremendous bioscience strength in the animal health sector," Lawrence said.
Photos: (Top) K-State president Jon Wefald speaks to the audience during the Kansas Bioscience Authority's 'Tribute to Jon Wefald' Oct. 28. (Middle) Sandra Lawrence, chair of the authority's board, touts President Wefald's leadership style. (Bottom) Lyle Butler, president of the Manhattan Area Chamber of Commerce, confers with authority president Tom Thornton.