Honoring Bob and Susan
Not only was the 2nd annual Spirit of Leadership alumni and friends event an opportunity to celebrate, but it was an evening to honor those who helped us get to where we are today. Beginning in 1996 as simply an idea, 11 students and some key players, The School of Leadership Studies has blossomed into a program that is helping teachers and students learn from one another daily. However, we realize that without the vision and dream of a few key players, The School of Leadership Studies would not have been possible. We are so thankful that we had the opportunity to highlight both Susan Scott and Robert Shoop and their contributions to the School of Leadership Studies during the Spirit of Leadership.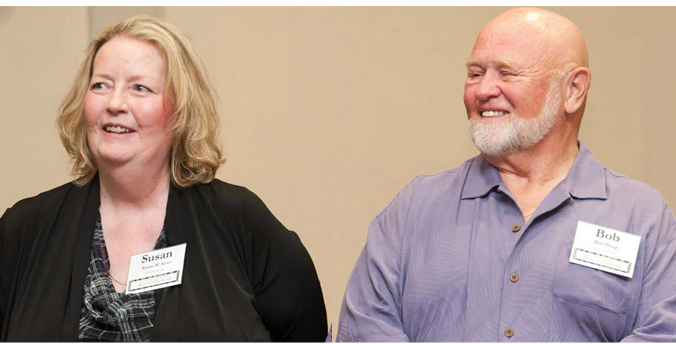 Thank you both for making your dream our dream and for making that dream a reality.
"When you think about heroes, individuals who made an impact on singular lives as well as groups, Susan and Bob come to mind right away as K-State Heroes." -Dr. Pat Bosco
"I learned [from them] the importance of working very hard but also playing very hard, because play is a very important part of who we are and what we do." -Candi Hironaka
"Susan and Bob were the catalysts for the leadership enrollment moving from 11 students at the outset to nearly 3,000 presently. These are two wonderful people who truly care about others." -Coach Bill Snyder
"Leadership Studies has been an asset and a gift to the K-State campus and beyond. It's wildly popular, it's deep and impactful to its subscribers, and its graduates are among K-State's finest." -Dr. David Thompson
"Bob and Susan's tenacity, persistence and ability to envision something and go after it with great vigor is just an incredible honor." -Dr. Bernard Franklin
The fall 2013 Spirit of Leadership will be on a Friday before a home football game to be announced.