The LOOP
Please enjoy our first 2015 newsletter to keep you in The Loop with all that is happening within the Mary Lynn and Warren Staley School of Leadership Studies.
Download the newsletter (PDF)
Director's Note
A new year invites both reflection and promise. In this edition of The Loop, we at the Staley School (!) are happy to share with you a little of both! In the following pages, learn how our students, faculty and staff – and our wonderful 2014 Michael C. Holen Leader-in-Residence, Mary Jo Myers – have been investing their time and talents.
"Names matter," said Staley School Director Mary Tolar. "Names not only identify but also convey relationship." In July of 2009, the School of Leadership Studies became the first stand-alone school of its kind at a public institution. As the School has grown and progressed in advancing its key strategic activities and outcomes for K-State 2025, we are excited to announce that the School now uses its full, official name: Mary Lynn and Warren Staley School of Leadership Studies.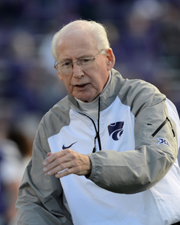 Snyder Leadership Legacy Fellows

K-State head football coach Bill Snyder has brought many of us some of our greatest K-State memories. Chances are you've celebrated many of his 187 wins, cheered on the 'Cats at one of his 16 bowl berths, or watched as he engineered what has become known as the greatest turnaround in college football history. For years, Coach Snyder has been developing leaders through football.
The knowledge that students receive in the classroom is great for writing papers and taking exams, but nothing can compare to the value of real world experiences. The Staley School of Leadership Studies strives to make these experiences widely accessible to our students through participation in conferences and professional development workshops throughout the year. This past semester, our students took advantage of two exceptional opportunities.
At the Staley School of Leadership Studies, we strive to develop our knowledge and understanding of leadership to better serve the students, faculty members, colleagues, and community partners with whom we engage. Research is a vital component in carrying out this goal. Staley School faculty share research at professional conferences, publish in scholarly journals, and ask critical questions to advance learning about leadership. Here is a look into some ongoing research.
Each fall, the Staley School of Leadership Studies hosts Spirit of Leadership - an event that connects alumni, friends, faculty, and students, as well as celebrates our alumni and friends who continue to lead in their communities, professions, and for the public good - such as the Michael C. Holen Leader-in-Residence.
A letter from Staley School faculty member, Chance Lee.