The LOOP
Please enjoy our newsletter to keep you in The Loop with all that is happening within the Mary Lynn and Warren Staley School of Leadership Studies.
Download the newsletter (PDF)
Director's Note
It's been another exciting year of progress at the Staley School of Leadership Studies! As 2015 comes to a close and the Holiday Season approaches, it's a great time to look back and an even better time to express gratitude to the people who made the year so special.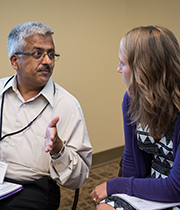 Leading Change Institute
The inaugural Staley School of Leadership Studies Leading Change Institute, "Ethical Global Partnerships, Learning, and Service," convened the week of August 10, 2015. The Institute engaged more than 30 professionals from the fields of global development and higher education in discussion and action planning around ethical global partnerships.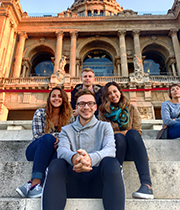 International Leadership Association

Leadership development happens every day at the Staley School of Leadership Studies. Everything we do ties back to our mission of developing knowledgeable, ethical, caring, inclusive leaders for a diverse and changing world. We know some of our best leadership development opportunities occur internationally. That's why we offer several opportunities for students to engage abroad. The International Leadership Association annual conference is just one of these opportunities.
In addition to travelling abroad for the International Leadership Association annual conference, the Staley School of Leadership Studies also offers students the opportunity for leadership development abroad through various academic and service-learning programs. These opportunities include a summer abroad through International Teams, a semester abroad in Ecuador, and a faculty-led trip to Canada.
In the last edition of the Loop, we asked you all to think about the question: what is a legacy? Our annual Spirit of Leadership event, which took place on September 18, was themed around the idea of legacy, and in preparing for the event, we at the Staley School of Leadership Studies spent a lot of time thinking about this question and exploring the connection between legacy and leadership.
No one could have predicted the immense impact that Kansas State University football coach Bill Snyder has had on numerous players and athletes over his time as the Wildcats' football coach. His coaching style has included leadership growth for his players on and off the field and in turn created the greatest turnaround in college football history. To mirror this dedication to personal growth and leadership development, the Snyder Leadership Legacy Fellows program has provided Fellows another outlet for growth with personal "coaching" opportunities.
The Staley School of Leadership Studies works to provide students with experiences to apply real and authentic engagement and leadership. Leadership theories are taught every day in the classrooms of the Leadership Studies Building, but we also strive to get students actively involved with hands-on learning experiences through our student programs.
A letter from Staley School faculty member, Lynda Bachelor.