Alternative Breaks
Alternative Breaks is an opportunity for students to participate in an intensive service experience during their winter, spring, and weekend breaks. Participants travel to communities around the midwest where they work with local residents to learn how their host communities are addressing pressing social issues. Breaks are open to K-State undergraduate, graduate, and international students.
Alternative breakers will learn through service. They will be challenged to prepare, act, reflect, and evaluate their service experience. This approach to service tests the simple volunteer mindset and allows students to understand community impact and grow personally through service.
"I feel like I talk about wanting social change so much that if I can't give up a spring break, do I really value it? -- Alternative Breaks Participant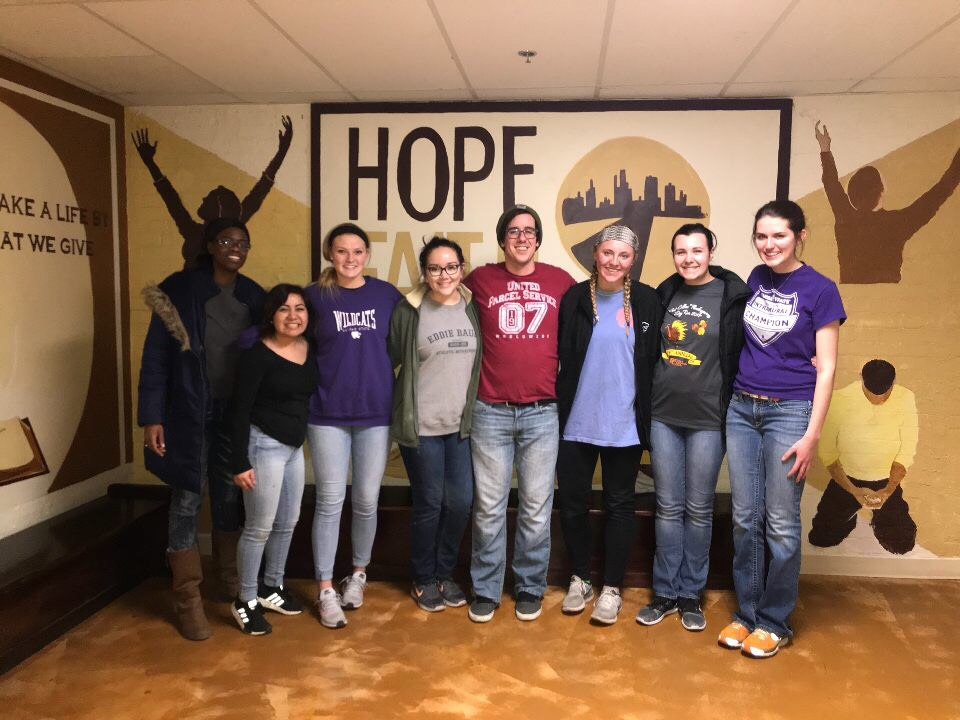 Where will you serve over Spring Break? (March 10-15, 2019)
North High School, Denver, CO; Exploring socioeconomic impacts on public education

Springfield, MO; Strengthening environmental sustainability

AIDS Services of Dallas, Dallas, TX; Gaining knowledge of how the healthcare system supports people living with HIV and AIDS

Camp Summit, Fort Worth, TX; Celebrating the abilities of children with disabilities
Where will you serve over Winter Break? (January 6-11, 2019)
North High School, Denver, CO; Exploring socioeconomic impacts on public education

Hope Faith Ministries, Kansas City, MO; Evaluating root causes of homelessness and various programs for relief

Thrive Allen County, Iola, KS; Engaging with challenges and approaches to promoting rural public health.

Weekend Break to Thrive Allen County, Iola KS:

October 19-20, 2018
Total Costs ***SCHOLARSHIPS AVAILABLE***
Site Leaders: Non-refundable $50 + $75 = $125

Participants: Non-Refundable $50 + $200 = $250

All Weekend Break Participants $10
Spring 2019 participants and site leaders are eligible for full or partial scholarships to cover the cost of their Alternative Break experience. Scholarship applications will be available in January.
What is included?
Transportation via enterprise rentals

Grocery/Food Stipend

Housing

100% of former Alt Breakers said they would recommend the program to a friend.
Break Away from Normal. Start your adventure with alternative breaks today.
Break Away Membership
K-State is a member of Break Away. Break Away's mission is to train, assist, and connect campuses and communities in promoting quality alternative break programs that inspire lifelong active citizenship.