Wildcat Leadership Challenge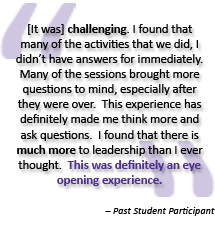 Sr. Expedition Leaders:
Laura Foote (K-State First)
Jenni Jones (Greek Affairs)
Pedro Espinoza (College of Education)
Madai Riveria (College of Human Ecology)
Travis Redecker (Recreational Services)
Jr. Expedition Leaders:
Taylor Poindexter (Junior, Kinesiology)
Pedro Miller (Graduate, School Counseling)
Belema Iyo (Junior, Public Relations and Advertising)
Jared Marcuson (Junior, Secondary Education)
John Rosa (Sophomore, Chemistry/Pre-Pharmacy)
The 2013 Leadership Challenge was a success!
Wildcat Leadership Challenge was a four-day intensive leadership development experience, sponsored by the Mary Lynn and Warren Staley School of Leadership Studies, Student Governing Association and Payless ShoeSource. The students -- who hail from across the state, the country and around the world -- met in both large and small groups to discuss issues of personal strengths, diversity and inclusion, and adaptive leadership. The students created action plans for exercising leadership through positive social change on the Kansas State University campus and in the community. Speakers and guest panelists were brought in from across the K-State campus to help assist in the dialogue with students.
What past participants have said about the Leadership Challenge experience:
"There is so much that I learned and want to share, but there isn't enough room. This changed my life. The people all have given me lessons on life."
"The diversity of my peers. I got to talk to people that I might never have gotten to. It was awesome to see different people's perspectives."
"I liked meeting so many new people and planning to make positive and realistic changes at KSU."