Noorjahan Akbar
Empowering Women to Lead Worldwide:
Overcoming Political and Social Struggles
Tuesday, March 8, 2016, at 4 PM
K-State Student Union, Forum Hall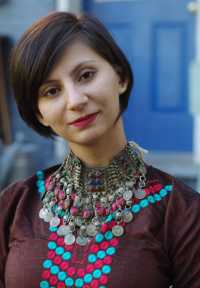 Internationally acclaimed gender equality and human rights activist Noorjahan Akbar will give a keynote talk on Empowering Women to Lead Worldwide: Overcoming Political and Social Struggles in the K-State Student Union's Forum Hall at 4 PM March 8 to mark International Women's Day. The reception will be held at 5 PM in Forum Hall Lobby.
Other opportunities are planned for students, faculty and the community to interact with Akbar during her visit, March 7-9. These events are co-sponsored by the American Association of University Women, or AAUW; Staley School of Leadership Studies; Department of Women's Studies; Women of K-State; K-State First; and International Student and Scholarship Services.
Akbar grew up in Afghanistan and Pakistan, but was fortunate to attend high school and college in the U.S. Her parents instilled in her the values of humanity and serving justice. While earning a Bachelor of Arts in sociology from Dickinson College and a master's in journalism and public affairs from American University, she became a leading voice worldwide for women's rights. Her work with several local and global organizations has focused on women's social and economic empowerment and ending gender-based violence, among them the Young Women for Change, as co-founder; Women for Women International; and Humanitarian Organization for Local Development-International.
In summer 2011, she led an Afghan march against sexual harassment in Kabul, which gained her international recognition. She has written for Al Jazeera English, the New York Times and Afghan newspapers, magazines and websites. She has published two books. Akbar also co-founded Free Women Writers in Afghanistan, freewomenwriters.org, which is an Afghan blog for social justice and gender equality with more than 100 contributors; has worked as a radio and TV show director/presenter; and speaks widely on issues relating to the rights of women and girls, education and sustainable global development.
Click here to follow more of her work.
Akbar has been internationally recognized for her work. She was chosen for Forbes' Top 100 Most Powerful Women in the World and Newsweek's 150 Fearless Women Who Shake the World. She received AAUW's Woman of Distinction Award, which was given by the National Conference for College Women Student Leaders in 2012. She was selected for Glamour magazine's Top 10 College Women in 2013 — an award that honors extraordinary and inspirational women from a variety of fields.
Akbar is a poster girl for equal rights in Afghanistan, literally.
Funding for her visit has been provided by K-State's Academic Excellence Fund, AAUW Campus Outreach Program Grant, AAUW State Board and AAUW Manhattan Branch. For more information contact Mary Stamey or Barbara Gatewood. Learn more about Akbar and events in conjunction with her visit by clicking here.

Akbar's passionate commitment to social justice will increase our awareness of political and human rights struggles worldwide, which is the focus of International Women's Day; inspire students to work on social issues; and motivate women to take leadership roles.
Related events
Welcoming Reception Hosted by K-State International Students, International Student and Scholar Services, and AAUW
March 7 at 4 - 5 PM
International Student Center
Student Luncheon Hosted by AAUW at Kansas State University
March 8 at 11:30 AM -12:45 PM, 201 Leadership Studies Building.
Reservations are required by March 3 to President Tara Terwilliger.
AAUW Manhattan Branch Dinner, Holiday Inn Manhattan at the Campus
March 8 at 6 PM Landon Room. Cost: $12.
Reservations are required by March 3 to manhattanksaauw@gmail.com or call 785-410-9710.
Class presentations
Leadership Studies class discussion on Leadership Philosophy, Approach, and Use of Social Media and Communications as Part of Leadership.
March 8, 9:30 AM, 103 Staley School of Leadership Studies
Coordinated by Trisha Gott, tcgott@k-state.edu
Women's Studies class presentation on Afghan Women Take a Stand for Freedom, Education, and Social Reform
March 8, 1:05 PM, WOMST 410A, Feminist Thought, 333 Waters Hall
Contact: Professor Torry Dickinson, dickins@k-state.edu
Journalism and Mass Communications class presentation on Voices for Social Reform through Mass Communications and Social Media
March 9, 9:30 AM, MC 382, Public Relations Case Studies, 208 Fairchild Hall.
Contact: Professor Joye Gordon, gordon@ksu.edu