Michael C. Holen Leader-in-Residence Award
The Michael C. Holen Leader-in-Residence Award honors outstanding individuals who are exercising leadership in a range of organizational, professional and civic settings. Recipients come to campus to share experiences and engage in rich and challenging conversations with our students and the Kansas State University community. The award recipient exemplifies the Mary Lynn and Warren Staley School of Leadership Studies' mission statement and the following tenets:
Service to the common good is the goal of leadership.
Leadership is a process and is not defined simply by position or authority.
Collaboration is the primary method of teaching and developing leadership.
Successful leaders are committed to and have the ability to engage in leadership with those of other backgrounds and cultures.
Originally named the "Lifetime Leadership Award," the award was later dedicated in honor of College of Education Dean Emeritus, Michael C. Holen for his tremendous support of Leadership Studies and then paired with the Leader-in-Residence initiative, originally sponsored by the Stephens family, to both honor outstanding leadership and bring leaders to campus in service to our students' learning. Mary Lynn and Warren Staley were the inaugural Michael C. Holen Leader in Residence recipients.
2018 Recipients:


Representing DECLIC, an organization of Ziguinchor, Senegal, West Africa: Haby Diallo, Salif Kanoute, Demba Kande, Jennifer Gbari, Francisca Napama and Adolphe Gomez.
2017 Recipients:


The first class of leadership studies graduates: Maggie Barlow, Patrick Carney, Michael Hodgson, Justin Kastner, Piper Niemann, Aaron Otto, Aubrey Patterson, Casey Carlson, Molly Crowe, Renee Fisher, Jonathan Freeman, Kate Jiron, Lindsay Sutton Weir Larson, and Melinda McMillan-Miller.
2016 Recipients:
Shante J. Moore
Shante joined the Foreign Service in 2000. Shante started his tenure as Deputy Director in the Office of Aviation Negotiations (EB/TRA/AN) in September 2015. In his current assignment, Shante is responsible for advancing U.S. Open Skies policy and negotiating bilateral and multilateral Open Skies agreements and other civil aviation agreements. Prior to his current assignment, Shante served as Deputy Counselor for the Development/Economic Section in the U.S. Mission to the Organization of American States (2013-2015). He is an economic-coned officer who served in five, consecutive overseas tours: Kuwait (2001-2003), Qatar (2003-2005), Kosovo (2005-2007), Nicaragua (2007-2010), Afghanistan (2011-2013). He specializes in macroeconomic and microeconomic analysis and reporting, trade, export promotion, private sector development and commercial advocacy. He is fluent in Spanish and is professionally proficient in Arabic and Dari.
Shante received his undergraduate degree in Political Science from Kansas State University in 1996 and his graduate degree from Georgetown University's Master of Science in Foreign Service Program in 2000. He is a Ronald E. McNair Scholar (1995), Truman Scholar (1996), Fulbright Scholar (Paraguay, 1997-1998), Ronald E. McNair Scholar and a Thomas R. Pickering Foreign Affairs Fellow (1998-2000).
Shante was born in Benton Harbor, Michigan but spent his formative years in Kansas. He is married to Silvia Diaz de Moore and they have a five-year old son named Kendrick. They currently live in Elkridge, Maryland.

Silvia Diaz de Moore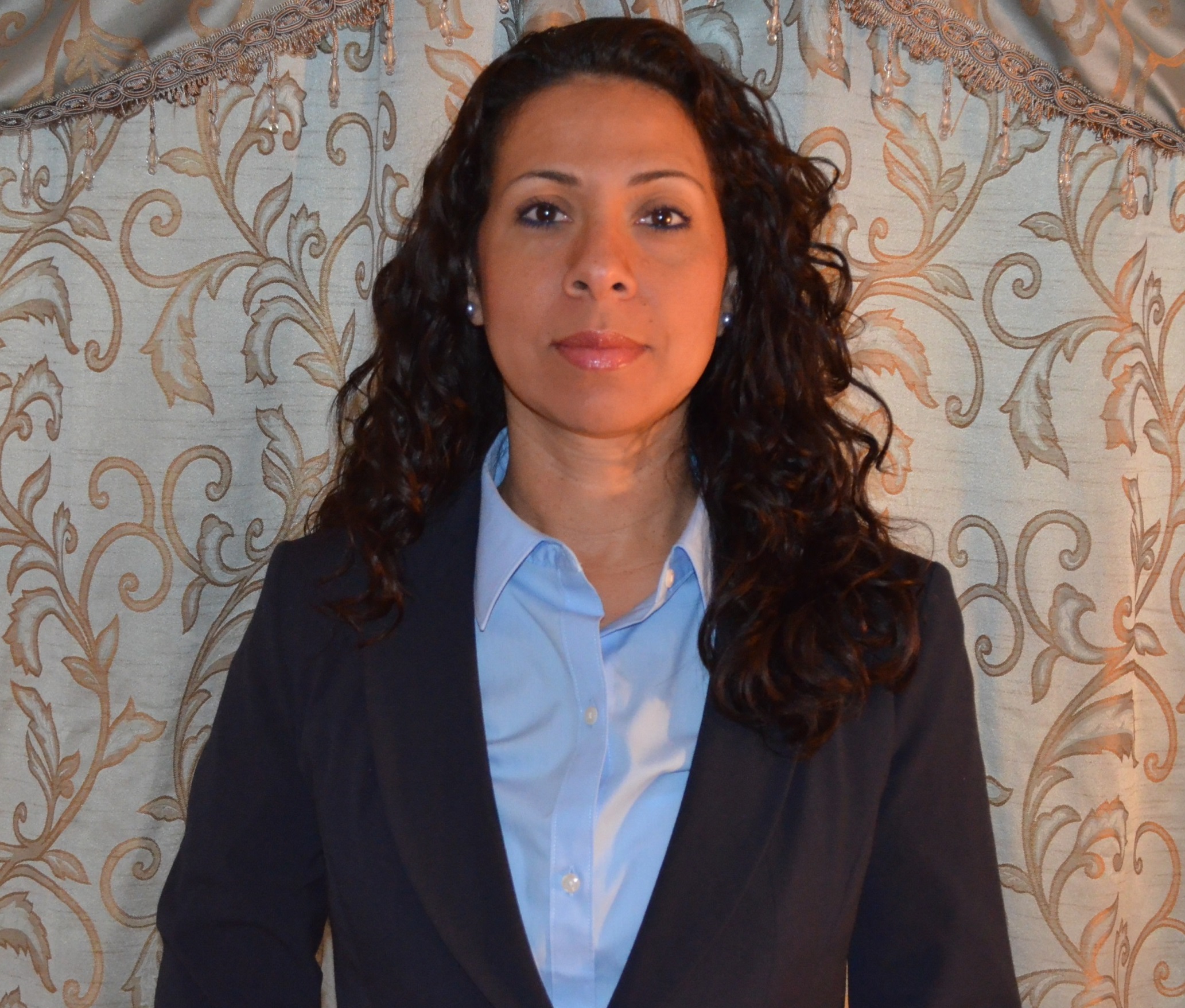 Silvia Diaz de Moore is from the historic, yet marginalized Afro-Paraguayan community called Kamba Kua, which in Guarani, the native language of Paraguay, means "place of the black." Silvia is a naturalized U.S. citizen and has over 15 years of pro-bono experience and volunteer service in supporting non-profit organizations and communities focused on the visibility and human rights of people of African descent, women and children in Paraguay and throughout Latin America.
In May, Silvia received her Master of United States Law degree (L.L.M.) at the University of Baltimore. Silvia's final project before graduation was a legal analysis of the history of human rights for Afro-Paraguayans. During her L.L.M., Silvia actively volunteered in the University of Baltimore's Immigration Rights Clinic, and served an internship in the State Attorney General's Office of Baltimore in 2015 where she worked as a Bilingual Victim Advocate in the Victim/Witness Unit that helped undocumented immigrants and U.S. citizens who were crime victims. Silvia also graduated from the Technical University of Marketing and Development with a law degree (2005) and Public Notary degree (2004) in Paraguay, and has over nine years of experience working in the Attorney General's Office of Paraguay.
Silvia currently serves as Executive Director of DC Afro Latino Caucus in Washington D.C. and the international representative of a Paraguayan non-profit organization called the Traditional Group of Saint Balthazar of Kamba Cua (Grupo Tradicional San Baltazar de Kamba Cua). The goal of this organization is to advance the educational, legal and property rights, as well as socioeconomic needs, for Kamba Cua and other Afro-Paraguayan communities. The organization's important achievements include Silvia's drafting of legislation and successful lobbying of the Paraguayan National Congress and the Office of the President to pass a law on August 7, 2015 that recognizes September 23 as Afro-Paraguayan Cultural Day. In addition, the Chamber of Deputies approved Silvia's draft declaration on August 13, 2015 that states the United Nations International Decade of People of African Descent, 2015-2024, is in the national interest.
Silvia also participated in a professional human rights courses and training offered by the Inter-American Commission of Human Rights (IACHR) and the United Nations High Commissioner for Human Rights. In October 2014, she participated in an IACHR course on the Inter-American System for the Protection of Human Rights. In October 2015, Silvia received and participated in the United Nations High Commissioner for Human Rights' Fifth Fellowship Programme for People of African Descent.
On January 21, 2016, during a meeting organized in Baltimore, Maryland for civil society by the United Nations Working Group of Experts for People of African Descent who were on an official country visit to the United States January 19-29, 2016, Silvia gave remarks that she wrote on "Migration to the United States by African Descendants: Migration Among the Diaspora."
On May 19, Silvia was one of 10 Paraguayans and other nationalities recognized by a Paraguayan organization called GRAMO, in partnership with the Inter-American Development Bank, for their leadership and achievements in Paraguay, the United States, and the world. Silvia spoke about the history, challenges, and recent legal and human rights accomplishments of the Afro-Paraguayan community, as well as the need for Paraguayan society as a whole to work together for the well-being and advancement of all Paraguayans.
BRIEF HISTORY OF KAMBA CUA
The descendants of Kamba Cua, which means "place of the black" in Guarani, the native language of Paraguay, were free slave soldiers who fought in the war of Uruguayan independence from the Spanish crown in the early 1800s under the leadership of the father of Uruguayan Independence General Jose Gervasio Artigas. Artigas, his soldiers, and the free slave soldiers (who were known as Los Lanceros de Artigas) received political asylum in Paraguay around 1820.
The Paraguayan ruler at that time, Jose Gaspar Rodriguez de Francia, would not allow the free slaves/soldiers to mix with the "white population." The ruler provided the free slaves/soldiers land and livestock to survive and they have lived in the area known as Kamba Kua (which is now under the jurisdiction of the city of Fernando de la Mora) ever since.
The people of Kamba Kua have maintained their African heritage by performing African dance and musical traditions called Candombe every year in a festival in honor of their patron saint Balthazar, who was one of three kings to go see the baby Jesus in Bethlehem, and to celebrate their culture and heritage. It is believed that Kamba Kua's descendants are from West Africa.
2015

2014

2013

2012

Mary Lynn and Warren Staley

2011

Tom Hawk

2010

Amy Button Renz

2009

Suzanne Mayo-Theus
2008

Atina Hanna

2007

Carol Gould

2006

Ruth Ann Wefald

2005

Grace Y. Hwang

2004

James R. Coffman

2003

Linda P. Thurston

2002

Deb Patterson

2001

Page & Nancy Twiss

2000
Lifetime Leadership Award

Buck O'Neil

1999
Lifetime Leadership Award