Health Promotion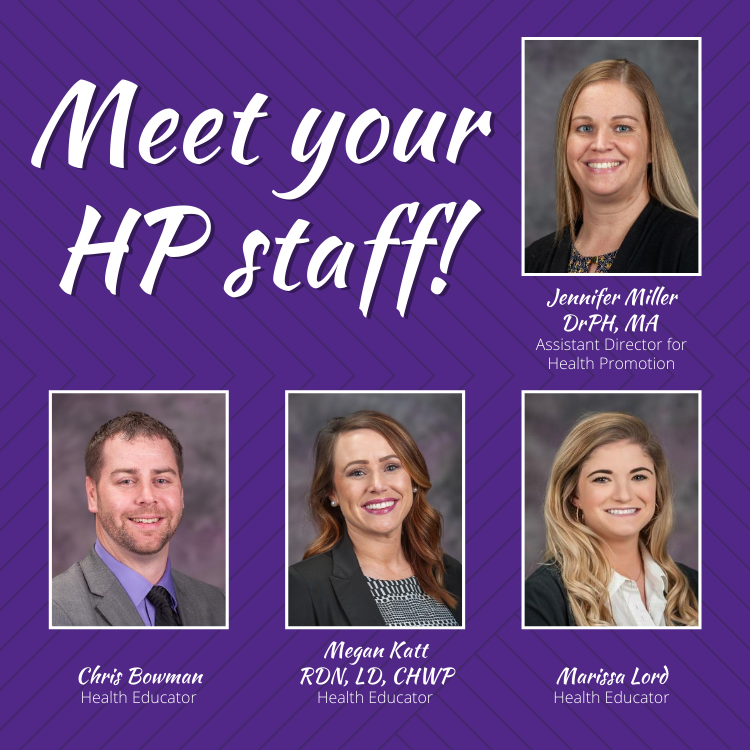 Peer Education
WellCAT Ambassadors
WellCAT Ambassadors is a departmental student organization under the leadership of Lafene Health Center. Members are certified peer educators dedicated to the advocacy of overall health and well-being at Kansas State University.
Thrive Navigators
Thrive Navigators is a departmental student organization under the leadership of Lafene Health Center and Counseling Services. Members are passionate about students' emotional well-being and mental health.
Courses for Credit
EDCEP 103: Healthful and Safe College Life
The Healthful and Safe College Life course addresses pertinent health topics that impact college students and gives them the knowledge to make informed decisions when faced with difficult situations. The course is completed entirely online through Kansas State University. Upon completion, the student will earn 3 undergraduate credit hours which can be applied to the K-State 8 requirements.
Instructor: Dr. Jennifer Miller (jmill212@ksu.edu)
EDCEP 360: Peer Health Education and Leadership
This 3 credit hour course is intended as an academic exploration of social health and well-being concerns pertinent to the college student population and is guided by the use of the Certified Peer Education (CPE) program owned by the BACCHUS Network. Enrollment restrictions apply. Visit the WellCAT Ambassadors webpage for more information.
Instructor: Megan Katt (megan34@ksu.edu)
Health Promotion Services, Resources, & Events
Presentations
Mental Health First Aid©
MHFA is a course that teaches you how to identify, understand, and respond to signs of mental illnesses and substance use disorders. This eight-hour training is available for students and faculty/staff. For inquiries, e-mail thrive@ksu.edu.
You Can Help a Friend
YCHAF is a 90-minute in-person workshop to help students learn how to recognize and respond to signs of distress in their peers. For inquiries, e-mail thrive@ksu.edu.
CPR, First Aid, AED, and BLS
Lafene Health Center offers CPR, First Aid, AED, or BLS certifications through American Heart Association.
WellCAT Coach
WellCAT Coach is a one-on-one peer well-being education program at Lafene Health Center. Coaches are K-State students, WellCAT Ambassadors, and Certified Peer Educators trained on health and social issues pertinent to the college-aged population.
21st Birthday Project
By email invitation only. The 21st Birthday Project at Lafene Health Center aims to reduce harmful drinking patterns surrounding K-State students' 21st birthday celebrations.
Smoking Cessation
Offered by Freshstart® by American Cancer Society. This resource features a four-session program facilitated by a WellCAT Coach.
Adulting 101
Offered in the fall semesters, Adulting 101 is a series of interactive workshops designed to teach K-State students basic life skills that are not offered in the academic classroom.
Cats Connect- NEW!
Cats Connect is brought to you by ProjectConnect™ and is an evidence-based, peer-facilitated program that helps students meet and get to know other students outside their social group, and build stronger community on campus.
Bulletin Board in a Bag - NEW!
We know you spend a great amount of time preparing your bulletin boards for your communities. We hope we have made it easier for you by providing a wide variety of bulletin board resources and posters you can print for your hall. Wish we had a topic not currently available? Let us know; we are always looking for additional ideas.
Thrive at K-State Podcast - COMING SOON!
Campus and Community Partnerships
Flint Hills Wellness Coalition
Contact Us
(785) 532-6595
livelifewell@ksu.edu