Add or Change a Degree Name
1) Log into KSIS.
2) Under KSIS Links, click Student Center.



3) Scroll to the bottom of the Student Center to the Personal Information area.
4) Click Names.

5) Click

to create a new Names entry or click

to change an existing Degree name.


6) In Name Type, select Degree.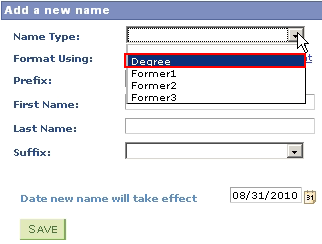 7) Enter the appropriate name information. This is the name that will appear on your diploma.



8) Enter the date the new name will go into effect. Note: This must be the current date or later.



9) Click

.


10) Click

.


11) Verify that new name is listed in the Names area.