Fabric Systems: Evaporative Resistance
Downloads:
Methods:
ASTM F 1868 "Thermal and Evaporative Resistance of Clothing Materials Using a Sweating Hot Plate Test" (Procedure Part B)
ISO 11092 "Textiles--Determination of Physiological Properties--Measurement of Thermal and Water-Vapour Resistance"
Instrument:
Sweating hot plate in an environmental chamber; custom hoods provide either horizontal or vertical air flow at different levels
Cost:
$376 per fabric type (3 reps)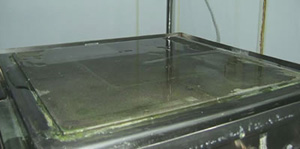 Flooding the plate. See photos of plate and hoods under Fabric Systems: Thermal Insulation.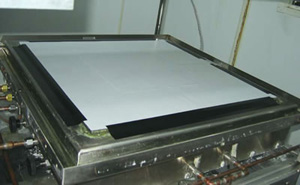 Water is covered with a PTFE liquid barrier to keep the fabric sample dry during the evaporative resistance test.